by Jacky Runice
Amidst the war on terrorism, a sinking economy and just whacking through the kudzu of daily life, we grow weary. Across the country, girl and guy pals are experiencing a Vulcan mindmeld and mumbling, "I've got to get away for a few days." Who else but another female can appreciate a warm, uninterrupted bath, breakfast in bed and watching a succession of Meg Ryan movies to see if she had lip enhancement surgery? Men certainly don't want women around when they're scratching their nether regions during a weekend fishing trip. Whether you need a stint of spiritual aerobics, intellectual pursuits beyond child-rearing, or something very active to get out of your head for awhile, chat up your best friends, sisters, daughters, brothers or Mom and Dad to get out, get away and get happy.
Every other year Chicago PR executive Rhonda Duncan and her clan of ten women relatives and friends head to Galena, Illinois, three hours west of Chicago. They rent a huge house at Eagle Ridge, hot tub it, sip Margaritas, shop the charming downtown area and stop at the Diamond Jo casino. One female fellowship member got a tattoo during the last reunion. Before going their separate ways, the women enjoy a champagne breakfast buffet at Eagle Ridge's main lodge (800-892-2269; www.eagleridge.com). Duncan's group works through Amber Creek Vacation Home Rental (815-777–2713).
Galena holds an annual "Ladies Getaway." Every September the 80-plus events (many free) include tours, high tea, hikes to learn about native flora and birds, golf clinics, sock hops and pajama parties, craft classes and demonstrations, discussions with authors, yoga classes, home decorating, trail rides and tastings. Lodging is available at a variety of resorts, motels, B&Bs, country inns and vacation rental homes. For a detailed brochure about Ladies Getaway, contact 815-777-9050 or www.galenachamber.com/ladiesgetaway.htm.
St. Louisan Cindy Underwood participates in the Convention & Visitor Commission's (CVC) "Be a Tourist in Your Own Town" program that uncovers places and parts of the city only tourists seem to experience. Her gal pals live in New York, Boston, Minneapolis, Phoenix and Washington DC. "We take turns hosting and with St. Louis in the middle of the country, it is a short airplane ride from any city," Underwood explained. "None of us have boyfriends and all feel friendships are more important. Plus we are much more fun without the boys," she revealed. "We all love to eat and drink fabulous wines. My favorite places to take out-of-towners are Norton's (Cajun food), 33 Wine Bar and the Chocolate Bar over at Lafayette Square. We occasionally hit a baseball game, but overall it is a lot of drinking, eating and shopping. Typically we shop in the U-City Loop or Central West End. We like the eclectic, unusual finds in the Loop," Underwood said.
St. Louis offers a plethora of girlfriend getaway activities. Stroll the grand Missouri Botanical Garden, one of the top three botanical gardens on the planet, with 79 acres of indoor and outdoor displays ranging from the otherworldly Climatron geodesic dome to the simply elegant Japanese Garden. Consider signing up for a class in wreath-making, gardening or even cooking (www.mobot.org). Drama queens should pencil in the "Fabulous Fox" theater, opened in 1929 as a crown jewel of the Fox movie empire. Special tours are available for groups or go online to see what's showing during your getaway reunion; 2003 features Les Miserables, 42nd Street, The Full Monty, Music Man and The Lion King.
Remember when you enjoyed cooking? Renew creative cooking spirit with a Kitchen Conservatory class (www.kitchenconservatory.com). Book a private party or a custom class with a personalized menu from ethnic foods to perfect pies. For details, call 314-863-COOK.
Just six miles west of downtown St. Louis, Forest Park contains the city's major museums – the Art Museum (the only edifice still standing from the 1904 World's Fair), Missouri History Museum, the Science Center and the St. Louis Zoo. About 500 acres larger than New York's Central Park, Forest Park features picnic sites, an ice skating rink, gondola rides and boat rentals, two golf courses, the Dwight Davis (of "Davis Cup" fame) Tennis Center and more. Have lunch or dinner in the nearby Central West End neighborhood with its art shops, mystery book store, tea room, Welsh pub and array of restaurants. At the tip of the neighborhood, the 1922 Chase Park Plaza recently underwent a $35 million renovation and features unique rooms (two bedroom suites with full kitchens are good for groups), five on-site movie theaters, an 18,000 sq. ft. health club and new spa called Bojaki. Another yummy St. Louis sojourn is a cruise to Ted Drewes Frozen Custard on Old Route 66, a tradition since 1929. Just ten minutes away from Forest Park's museums and attractions, Ted Drewes is one of a few thriving independent businesses along the historic road.
Cherokee Street features more than 40 shops, heavy on antiques, and the mysterious Lemp Mansion Restaurant and Inn is just around the corner. The beautiful historic house is said to be quite haunted, so perhaps a night here is in order. If ghosts are on your agenda, your group may want to have lunch or dinner at the mansion or take in a dinner theater performance on the weekend (314-664-8024). History buffs may want to sneak in a tour of the stately Chatillion-DeMenil Mansion, built in 1848, next door to the Lemp Mansion.
St. Louis neighborhoods are fascinating to stroll. Pencil in some time to explore the Hill District, a tightly knit Italian American community with blocks of compact "shotgun houses," fire hydrants enrobed in the red, white and green colors of Italy, bocce ball courts, wonderful Italian bakeries, delis and local beauty shops. Dine at the venerable Dominic's, where everything is authentic, from the hand-rolled cavatelli to the congeniality of the Galati family.
Before you head home, stop at Bissinger's French Confections, an old-fashioned candy store complete with original chandeliers, tin ceiling and handmade chocolates. Actor Kevin Kline, a St. Louis native, calls Bissinger's monthly to order two pounds of the dark chocolate-dipped apricots (www.bissingers.com).
Wednesdays through Saturdays, the nation's oldest farmers market is a serial shopper's delight. Historic Soulard Market resembles an old train terminal with merchants hawking everything from live chickens to spices and funky clothing. Your group may want to see the awe-inspiring Cathedral Basilica of St. Louis's largest collection of mosaics in the world, with one hundred million pieces of stone and glass transformed into religious art.
For guys, St. Louis offers Route 66 State Park, the Cardinals, Blues and Rams, the International Bowling Hall of Fame, free tours of Anheuser-Busch's world headquarters and the road to the NCAA Final Four leads to St. Louis in 2005. The St. Louis Convention & Visitors Commission (800-916-0040; www.explorestlouis.com) wants to help you plan your girls- or guys-only reunions.
Sue Pearson, Cottage Grove, Minnesota, joins her gang of girlfriends every Wednesday for movies, bingo, dinner and yoga. Every year the group has a "Girls Weekend" Minnesota, but they wanted to go somewhere else to celebrate their 30th birthdays. Pearson saw an ad about something called the Veiled Voyage. The company offers the chance to take a fun getaway with family and friends and then the group tries to figure out where on earth they're going! Even in peak season, they'll send you on trips starting at $249. Clients provide their travel dates, budget and theme (romance, shopping, golf, fine dining). Veiled Voyage then arranges a "mystery" vacation, blending in game-show excitement with clues in the weeks leading to the trip. Two days prior to departure, clients receive their package.
"The Veiled Voyage was really a great idea for us," explained Pearson, "and we enjoyed the clues. We knew our destination after the first one, but it was still fun. We decided on $300 per person and the company was able to get air, hotel and a mini van in Charleston, South Carolina. Charleston was wonderful, with fantastic sites and tours, and plenty of history to read about." The group of six toured a plantation, took a river ride and indulged in a half-day at a spa. "One of the girls is going back with her mom and sister and a couple of us want to go back with our husbands! Veiled Voyages was perfect for six women who can't decide on a restaurant, let alone a vacation," exclaimed Person.
Kathi Boyce, Lombard, Illinois, and her friends, all in their late 40s, wanted a long weekend somewhere, too, but schedules and indecision nixed plans. They enjoyed decoding clues, then Veiled Voyage whisked them to Savannah, Georgia.
College girlfriends Nicole Gage, Christy Herbig, Lara Barringer and Melissa Roberts wanted to go out with a blast on their last spring break before graduating and moving on to the spring break-less real world. "We met during our freshman year at Texas A&M and have been great friends since," explained Nicole. "We surfed the web for hours trying to find something affordable. Finally, we stumbled across www.vvoyage.com. We were uneasy about giving a stranger money for a "secret." I called the Better Business Bureau and several business references and everyone said wonderful things about the owner." The friends submitted criteria: someplace fun, warm, beachy and not in Texas. A month before their scheduled girlfriends getaway, they began to receive weekly "hints." "We told the clues to everyone we knew to try figuring it out and on the final clue, we guessed we were going to Las Vegas. The packet also included a very nice Las Vegas travel book and map which was very helpful. They were in the center of the Strip, within walking distance of all the action. "When we checked into the Aladdin Hotel, we were upgraded to a spa room with a view overlooking pools on the roof and the Strip. It was a huge room (they probably saw our suitcases!) with plenty of space for all four of us. We had an amazing time and everything went smoothly," Gage said.
For an adventure of a different variety, Susan Block, Bergheim, Texas, and her group of eight "Wilderness Warriors" have notched 21 consecutive summers of a week together in the wilderness. In 2001 they chose Country Walkers, an upscale walking tour company operating guided group trips around the world. Block's group visited Utah, Bryce and Zion in 2001 and Vancouver Island in 2002. "We've covered the map and been covered by a near avalanche, talus rockfall, bear scat in Glacier National Park, rattlesnake strikes in Greer, Arizona, ice slides, torrential Pecos Wilderness New Mexico rain, snow in July, mosquitoes, the famous black flies of the Adirondacks, and the Nighttime travel section, with photos to prove it all," beamed Block. Why? For adventure, challenge, affirmation, laughter and friendship. Block liked Country Walkers emphasis on nature's beauty, the informed guides and accommodating attention to detail so much that it's their only repeat outfitter.
"The Wilderness Warriors are eight intrepid women, all 40ish and true Texas spirits, seeking adventure" explained Block. The eight friends (six Texans, one Californian and one Georgia peach) with nicknames like Queenie, Moonrocket, Snakes and One Hand Rubbing, are wives and partners, moms of 18 and grandparents of 13, with careers in writing, teaching, landscape design, investments, volunteering and photography.
The Wilderness Warriors get a new shirt for each year's adventure. "The 21-year-old yellow T-shirts in 'small' have made way for roomy 'XXL' windjackets," Block said. A book, article or event, like Barbara Kingsolver's Small Wonder or Edward Abbey's Desert Solitaire sets a theme for the trip. The women discuss aging, disenfranchised women in the Middle East, fabulous mystery tales of romance and always have a ribald skit and a round of charades on the last night. According to Country Walkers' Managing Director, Heather Killingbeck, same-sex groups are very successful for the Vermont-based company because clients find they can relax, enjoy themselves in the company of friends, be active, and perhaps escape normal day-to-day demands. Take a look at the 60 different trips at www.countrywalkers.com or call 802-244-8813.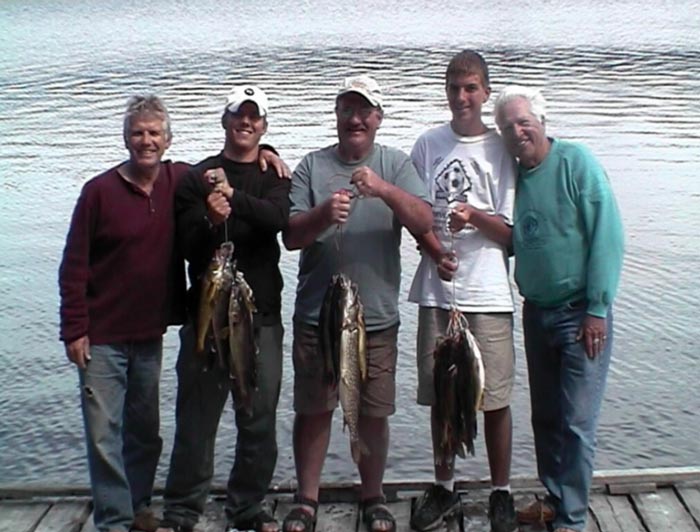 The Wilderness Warriors have their male counterparts: these canoe boys and fishing buddies, who call themselves "Jake & Elwood Poors," gather annually for a trip north to the real wilderness of Canada. Organized by Tom Williams, Waubeca, Wisconsin, the other guys come from Georgia, Missouri and Colorado to fish and relax. "Most of us are in our early 50s, so for all of us it's a completely escapist thing to do," Williams explained. "The first thing you do is take your watch off. If, by the second day, you're wondering what day it is, you're having a good time. We fine anyone who mentions work," he laughed.
The group consists of friends (one Williams has known since he was eight years old) and family. "In early July my father-in-law turned 80 and I thought it would be a great birthday gift to take him on a trip like this," Williams recollected. "A couple of guys brought their sons, so the ages ranged from sixteen to 80."
A Manitoba fishing trip was the site of the 14th reunion in summer 2002. As the chief organizer, Williams admits there are definitely management challenges in a roomful of testosterone. "Everyone has his responsibilities," Williams said. "I filet the fish, plot the route and generally manage the operation while another guy does the lunches and another the dinners and so on." They drove to Winnipeg, Manitoba, then took a wheel plane for 200 miles and continued on a float plane for another 40 minutes. Two cabins, ten guys and nearly 2,000 fish — it was a grand excursion. "We've been to five or six different places over the years, mostly in Northeastern Ontario, but we wanted to try a fly-in trip. We were very happy with the outfitter, Border Outposts (www.borderoutposts.com), Minaki, Ontario."
"Every year there's always some kind of adventure," Williams laughed. " One year, I said the fishing is so good I can catch a fish with a golf ball!" So, I made a lure out of a golf ball, carried it around for 10 years and this year on my third cast, I caught a fish on the golf ball!"
At trip's end, the guys celebrate the "champagne fish" — a salute to the best fish caught during the trip. They make toasts, give speeches and generally have a great time. This year Williams's 80-year-old father-in-law, Dwight Johnson, won the prize. Williams said Johnson recently wrote, "I can go into heaven with a smile on my face because I caught a 25-1/8" walleye."
"This is one bond we share," Williams explained. "There's nothing else like it."
About the author
Journalist/Editor Jacky Runice has penned a weekly travel column for Chicago's Daily Herald since 1994 and writes about travel and dining for USAToday.com; CBS Local Chicago; and Examiner.com. She expands her repertoire at Kane, Lake and McHenry County (IL) Magazines with articles about everything from healthy living to technology. A former Chicago radio talk show host, Jacky has three grown children who have inherited her love of sampling new cultures, countries and cuisine.