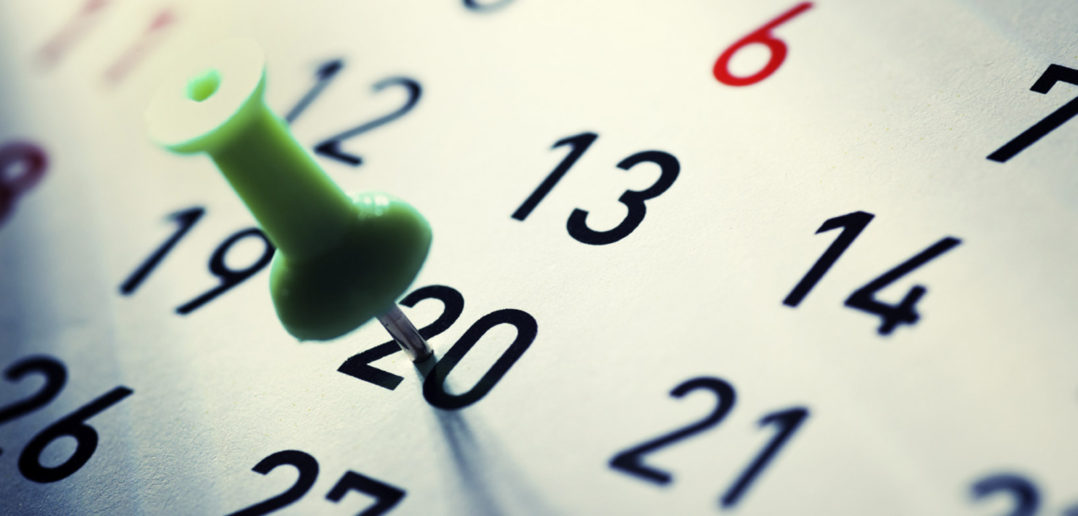 When? Choosing a Date
a Rafflecopter giveaway
Save-the-Reunion-Date Cards
Is your reunion in 2019 or 2020? Ready to send a Save-the-Date notice? Enter now to win one of our Save-the-Date postcard or flier designs (up to a $40 value) to send to your members or post on your website or Facebook page. This is a digital design only.
The date of your reunion will be your first and most important decision.
Your reunion date might coincide with an important family event or milestone, or you can choose an arbitrary date. Or, if you offer choices, make a commitment to abide by the consensus of the group. Avoid a blanket request for dates. If you ask 50 people to suggest dates, you'll get 50 dates and still no consensus. If, on the other hand, you suggest a choice of say, Thanksgiving or Fourth of July weekend, a majority can be determined right away.
In a large family it will be impossible to accommodate everyone's schedule, but the ranking allows you to see which date works for the most people.
Most family reunions are in summer, but you don't have to follow the crowds. You may find it less expensive and less exasperating to book everything from a picnic in the park to resort rooms during less popular times. Take advantage of "off season" packages—usually April-May, October-November, and December-February (except at tropical beach resorts and ski areas). Airline rates also may be lower.
Reunions are tough to plan less than three months before the event because desirable locations fill up. If you need a large venue such as a resort, events center or guest ranch, you'll need to book it nine to 18 months ahead.
---
When you choose a date, stick to it.
The key to choosing a reunion date is to stick to your final decision. Changing the date will only create havoc for others. If you plan to meet again, ask family members at the reunion to set the next date. Ask if they want to gather yearly, every other year or maybe every five years.
Almost half the families Reunions Magazine surveyed have annual reunions, about a quarter choose biennial reunions, and one in 10 have them every five years.
---
Ideas for dates

Family milestone or special day: silver or golden wedding anniversary, a grandparent's or elder's birthday, a wedding or graduation, an ancestor's birthday or date of immigration, a retirement party, a birth, or an ethnic or religious holiday.
Time of year/season. Most family reunions are held between June and September because the weather is better, travel is easier, and school is out.

Long holiday weekends are often perfect for reunions.
Many families set a date or weekend, the same each reunion, such as the third Sunday in July. Even if the reunion is not held every year everyone knows when it will be.
---
How other reunions choose dates
The Beck Family Reunion meets at Debbie Beck's home on the farm in Robin, Manitoba, Canada, usually over an extended long weekend about every five years.
Brenda Higgs, Fayetteville, Arkansas, reports the Rosebeary Family Reunion date is Fathers Day weekend every year, so no one can say they forgot. It's also at the same place every year, at Lake Tenkiller State Park in Vian, Oklahoma.
Peter Eckhoff, Plainview, New York, schedules the Eckhoff Family Reunion at least a year in advance so the maximum number of people can attend. Henry Graham says the Hicks-Odom Family Reunion moves from place to place each year but the date is always the third weekend in July. Pamela Stahly, South Bend, Indiana, says keeping the same date year to year ensures out of state family will come to the Thompson Family Reunion.
If you're a Seidemann, you just know that the third Sunday of July you will be in Newburg, Wisconsin, for your annual reunion. This is the 79th year of this family habit.
---
When?
If you are starting your very first reunion it is not unwise to begin a year and a half to two years in advance. Seasons matter — do you have skiers? campers? sun-seekers? school children? Plan accordingly. A majority of all family reunions occur in between Memorial Day and Labor Day. Consider three-day school holidays at other times of year for variety; skiing over Martin Luther King Day or Presidents Day weekends.
Set your first reunion date to draw as many as possible. Give everyone plenty of time to save both vacation time and money for the trip. Your reunion date might coincide with an important family event. You can choose a date arbitrarily. Or offer choices with a commitment to abide by the consensus of the group. Avoid a blanket request for dates. Don't ask 50 people to suggest dates because you'll get 50 dates and still no consensus. If, on the other hand, you suggest a choice of say, Thanksgiving or Fourth of July weekend, you'll know your majority right away.
---
How long are reunions?
Over 70% of respondents to the Reunions magazine surveys report devoting two or more days to their reunion. Typically reunions start on Friday and last through Sunday, though some families stay longer. One whole week is not unusual. If members travel any distance, a longer stay makes the effort worthwhile with time to visit and relax before the return journey. The Seideman Family Reunion in Newburg, Wisconsin, has grown to an annual average of 400-600 descendants of Friedrich Seideman. They require a couple of days to set up a barn filled with a fascinating collection of family and farming history as well as games, a talent show, contests and food. They celebrated their 75th consecutive reunion in 2008.
How often should you meet? Reunion frequency is an individual decision. Reunions are not inexpensive so time to save is essential. A surprising 46% of families make the reunion an annual event while 28% choose two years between reunions. The ones who wait five years may increase frequency for special reasons like significant anniversaries or members being ill and unlikely to make the next reunion. Frequency is also a serious consideration for the reunion organizer. One year passes rapidly while two years allow for some extra breathing room.
---
Timing is everything
When you have your reunion may seem to be easy for some, but for others it may be one of the biggest decisions to make.
A very important rule of reunion timing is that you pick a date and stick to it. For many reunions some people may not be able to come the date you pick but if you change it for person, many others will have the same problem with your new date. Once you've announced the date, do not change it … you will save yourself many headaches.
---
It's all in the timing
Barbara Taylor reported that many members of her Taylor Family Reunion (ages one year to 85) live around the country and have time off during the year end holidays because they're teachers. Others hold vacation time until Christmas. Their reunions have been at state parks, hotels and condos. They enjoy eating out and being together for two or three nights after Christmas. Two of the families pay for their children and family's cost as part of their Christmas gift.
---
Same time year after next
Karen Reinboldt Loppnow wrote:
Our reunion is every two years for three days and everyone knows that two years from now there will be another. Last year our reunion was at our new home of only three months. Eighty plus people were here and we had a blast. Many of my relatives have tents or campers so our lawn looked like a campground. Our new neighbors may have wondered about us.
Each family agrees to prepare one meal for a particular day including cleanup. Everyone pitches in. Meat and postage are paid out of a fund from a white elephant sale with items contributed by each family.
Three days gives all the cousins a chance to really get to know each other. They exchange email addresses to keep in touch till the next reunion. One of our new neighbors took pictures so all of the family could be in the group shot as well as each family shot. One of my aunts collects photos and puts them in an album she brings along with past albums to the next one.
---
Thirty years strong
Patty Breen Homan, Manheim, Pennsylvania, wrote that her Breen Family Reunion has met for over 30 years every Father's Day weekend in New Hampshire. Most arrive on Thursday and all stay through Sunday. The first generation has eight sisters and brothers and now the children of the original eight take turns for all reunion details year to year. Each family has a turn every seven years (one of the original eight never had children). They make reservations (at a boys' summer camp that's a ski area in the winter), set up a list of assignments, plan weekend activities, etc. "We have a cookout Friday evening, a baseball game after breakfast Saturday, afternoon at the beach followed by basketball.
---
Make your reunion your own family holiday!
When should you have a reunion? What are good dates? How do you choose one?
A family reunion typically starts when one person has an idea and shares it with other family members. Joyfully, many families love the idea, respond instantly and are ready to help.
The idea of a reunion can generate support or rejection. Don't let rejection slow you down. Proceed if there are enough positive responses and let the others catch up when they're ready.
"When?" is one of the most important reunion questions you'll answer. How should you choose your date? Initially, the question of when to have your reunion seems fairly simple but don't be fooled.
Choosing and setting a reunion date is a crucial and important step. A cardinal rule of reunion planning is that once the date is set, stick to it. Establish a timetable to count down to your reunion.
If you have no idea when to have your first reunion, picking a date may not be as simple as you expect. Surveying your family may seem the most democratic way to pick a date, but do so with a plan in mind. The larger the group, the more structured your request must be. For example, pick several dates and include them in your survey or questionnaire. Do you prefer date one, date two or date three? Their answers will guide you to fix a date.
If you want a popular place, start years ahead. In large, extended families it's rarely possible to accommodate everyone's schedule. Choose the best date possible. Then stick to it.
---
Choosing a reunion date
Special dates
Let's begin by understanding that many reunions are established to honor a special anniversary or birthday. Fiftieth wedding anniversaries, 80th or 90th birthdays are the oft-heard reason to create a reunion. Everyone has such a great time that they continue to meet. Then, interestingly, they continue to use those special dates by default. One family still meets on their long deceased parents' anniversary in October which limits attendance to adults but suits them perfectly.
Any dates
Set your reunion date to attract as many members as possible. Early and energetic planning maximizes the number of people who will schedule vacations, save money and make arrangements to attend. Bob Aguas, Arlington, Virginia, reported that starting the Espina Family Reunion two years ahead was none too long because he soon discovered that "two years is not that far away at all!"
If reunion is a new idea, members must save (vacation) time and money for the trip. Most family reunions occur between June and August for the convenience of families with school-age children. Other dates to consider are off-season school holidays or three-day weekends that take advantage of special promotions. Seasons matter — do you have school-age children? skiers? campers? sun-seekers? Plan accordingly.
There's nothing sacred about summer reunions. Kids are out of school in summer but they have three- and four-day weekends in winter — perfect times to get away, reduce cabin fever and enjoy the company of family. There're lots of benefits to winter reunions. Off-season prices work for winter reunion escapes. Some resorts feature up to 50% rate reduction in winter, as well as free special programs for children.
Same dates
Many reunions designate the same day year after year. The third weekend in July has been etched in stone for the Seideman family for over sixty-six years. Seidemans are scattered around the world and they never discuss the day of their reunion because it is fixed. Another family uses this formula: the Sunday closest to July 15th every other year in even years.
Having a consistent, fixed reunion date has other bonuses for families for whom it is not easy to get everyone together. After children are grown, you can never expect all your children home for all major holidays. Once they marry they have obligations to new in-laws. But you can expect them for a reunion if you've designated your own special reunion date. Make it your special family holiday!
The prolific Andrew Elton Williams, starting around 1822, begot ten children by his first wife and 13 by his second. These twenty-three children begot 145 grandchildren and by 1990 more than 70,000 Andrew's descendants had been traced. Their first Williams reunion was held in 1903 at Reddick's Mill, Florida. Everyone wanted to meet in autumn after crops were in. They discovered in the Farmers Almanac, that there had been no rain on the first Thursday in October for fifty years so they selected and stuck with that day until 1963, when it rained. Since then the reunion has been held every year on the first Saturday in October.
For some family members Saturdays are more convenient than Sundays, or vice versa. The Gottfried Wilke Family Reunion is a lavish potluck picnic on a Saturday one year and Sunday the next. The Gottfried Schmitz clan always meets the second Sunday of July in even-numbered years.
Independence dates
Holiday weekends are popular because most families have one or more automatic extra days. By far the most popular reunion holiday is July 4th, when millions of Americans celebrate the nation and their families.
The Tommy and Joe Shields Family Reunion is July 4th every five years in the Clarkfork/Hope, Idaho, area. Reuniting every five years on the same date gives family members time to anticipate, plan and save for this special event according to Joy M. Yockey, Montesano, Washington. The Nichols Family Reunion and Heritage Day celebrate the nation's birthday and the anniversary of the arrival of Robert Nichols to Maryland in 1635. Lloyd Johnson's Dixon Family Reunion meets for a full week around Independence Day every other year. The Zeigler Family Reunion meets every July 4th weekend in Rockford, Alabama, where they decorate boats for a patriotic boat parade according to Nancy Zeigler, Paradise Valley, Arizona.
Holiday dates
Other holidays are also great choices for family reunions. McGinity Family Reunions, according to Ken McGinity, Carmel, Indiana, meet in a different part of the country every three years at Thanksgiving. They've experimented with other dates but found Thanksgiving best for everyone. The Avalon, New Jersey, Corrigan Family Thanksgiving Reunion started as a one-day trip to Colonial Williamsburg, Virginia … over thirty years ago. Lambert Family Reunions seven branches enjoy great attendance every fifth Thanksgiving "because everyone has time off and the weather is lovely in Louisiana."
Teresa Lilly says Santa understands the Lilly Family Reunion celebrates Christmas at Thanksgiving when the sisters are able to come home with their families. Santa leaves "turkey bags" to celebrate Christmas at Thanksgiving. They decorate a Pilgrim tree with Indians, turkeys and colorful ornaments. They use brown butcher paper to wrap presents that kids decorate with crayons, leaves and Thanksgiving stickers. "Turkey bags" are brown paper grocery bags stapled closed and decorated to look like turkeys (colorful construction paper heads and tails). Santa hides the bags while everyone enjoys Thanksgiving dinner.
Or how about Christmas reunions? Michele Hendricks, Loveland, Colorado, reported that the Newton Family held their first reunion at Christmas and discovered the joy of simplicity and doing for each other. Activities included a hike in the woods to cut the perfect Christmas tree, making gingerbread cookies, stringing cranberries and popcorn, creating personal Christmas cards and a visit from Santa Claus. Pam Johnson Taverner's Johnson family scattered to Tennessee, Illinois, Connecticut and Kansas but reunite every other Christmas at their mother's new home in California.
Or celebrate Christmas like Ellen Clark's Ray/Clark Family Reunion in Beech Mountain, North Carolina, in July when they celebrate the holiday they know they can't spend together. When Vivian Anderson, Lincoln City, Oregon, turned eighty the family planned a reunion in July with a Christmas theme at Fogarty State Park near Newport, Oregon. They drew names for gifts and a stocking stuffer. Anderson knit thirty red stockings. A son-in-law caught salmon and barbecued it.
No matter what date you choose for your reunion do so carefully and when it's done, stick to it. If you change your date for one person, someone else is surely going to need a change as well. So by sticking to your date, you start planning other details such as "where" and "what" with greater confidence.
About the writer
Edith Wagner is the editor of Reunions magazine, author of Reunions Workbook and Catalog and The Family Reunion Sourcebook (1999, Lowell House, Los Angeles) in bookstores.
---
More about reunion timing!
How long?
The length of your reunion will depend on your family's wishes and desires. Over 70% of respondents to a study (by East Stroudsburg [PA] University/Reunions magazine) about family reunions reported that they devote two or more days to their reunion. Many family vacations are reunions or include reunions as a significant part of their plans.
While many reunions are still a single day, more and more last from Friday through Sunday. Some families meet even longer. A whole week is not unusual.
The three-day weekend reunion gives everyone a bit of a respite, a mini-vacation. There's plenty of time for visiting, touring, enjoying sports and games, a banquet, cookout or picnic … or all of the above!
If members travel any distance, a longer stay makes the effort worthwhile with plenty of time to visit and relax before the return journey. The occasion of cousins visiting from Italy generates week-long reunions of Nicolo and Felicia DePronio's descendants in Toronto, Canada. The Amalio Rodriguez descendants from several Midwest states meet in Puerto Rico to celebrate the weeklong La Festa Patronales. Three generations of the Basirico Family Reunion convene annually for a week in various exciting places from mountains to beaches.
How often?
Frequency and interval is also a matter of personal/family preference. Almost half (46.2%) of all family reunions meet annually, according to the East Stroudsburg University/Reunions magazine study. That is a substantial number of people for whom family holds great importance.
Many families convene for one day annually. Annual reunions of immediate family — grandparents, their children, spouses and grandchildren — are opportunities for parents, siblings and cousins to spend time together.
The Seideman Family Reunion draws in excess of 400 members from about two dozen states and up to three foreign countries annually to the family homestead near Newburg, Wisconsin. For a crowd that size an advance contingent spends up to three days before putting everything in place for extensive historical exhibits, registration and food/beer sales.
Other choices for reunion frequency, according to the above study, are 28.2% of families meet every two years and 10.4% every five years. Every two or more years gives everyone a chance to save for a great reunion vacation.
Frequency is a serious consideration for the reunion organizer. One year passes quickly while two years may give you some extra breathing room. After organizing a reunion for 500, Carmen Turner, Key West, Florida, knew she needed a respite before taking on another Allen Family Reunion. Another family experienced so many funerals in a short time that at first they thought a reunion would be too expensive for everyone. But instead, they used the experience to count their blessings and meet even oftener.
Lee Lybarger, Delaware, Ohio, helps with two family reunions. One insists upon meeting at the same place every year on the same July weekend. Attendance, according to Lybarger, is suffering. To increase attendance he suggested having the reunion every other year but they want no change and are stuck on their traditions. He also helps organize an every-other-year, one-day reunion where he'd like to increase reunion time for folks to get better acquainted.
One family quite happily scheduled reunions every five years until they realized how long and quickly the list of deceased grew between meetings, so they decided to meet more often while everyone is still alive. Janis Wilkins' Koehler Family Reunions started in 1968 with a celebration of their grandparents' 50th wedding anniversary. They also met at five-year intervals until they realized they'd like "to see each other more often!"
Frequency also depends upon the willingness of volunteers to ease the burden of organizing. Many families have members who are great at juggling all the details and can handle an annual event. We salute those energetic folks!
Follow up, follow up, follow up
Persistent follow up now is the only way you'll stay on schedule. Printing projects need ample production time to assure delivery before your reunion. If you don't follow up now, you may need to skimp later on proofreading time and one last opportunity to catch a fatal editorial flaw (though that's still a couple months off)! You also need adequate time to develop a catchy layout. Follow up will get you a more thorough response with enough time to produce a product you can be proud of delivered in plenty of time to be distributed at the reunion. Be aware that if your directory or memory book is delivered too late for your reunion, you'll also incur the cost of time and money for packing and shipping later.
Nail down the details
To secure those persons, events and activities, make reservations well in advance. If you have special programs or speakers that involve persons outside your family, you'll want to know that they are available for you when you need them.
Are you hiring a magician for the children? Reserve early to get just the one you want.
Are you arranging a tour that requires some custom features of special importance to your family? A historian or guide to enhance your own family anecdotes?
Are there special facilities or opening a building for which extra custodial help might be needed?
Are you hiring a special vehicle, bus or a boat?
If these are all things you're thinking about but have done nothing to assure, now is the time to get on it! Many plans and good intentions are stalled because the person, place or conveyance simply was not available. What they say about early birds, applies equally to reunions (without the worms).
Reward the scholars
If you intend to have an essay contest for students in your family, announce it early and prepare students to think about the challenge. Many families provide scholarships to outstanding students, some even provide some help for all or many students.
About the writer
Edith Wagner is the editor of Reunions magazine, author of Reunions Workbook and The Family Reunion Sourcebook (Lowell House, Los Angeles).