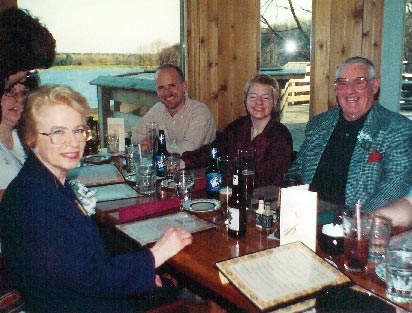 Charles and Kathleen Syers met at a dance at a dude ranch in western Michigan on Labor Day weekend 1957. They married the following April. Forty years later, their five daughters hosted a special reunion weekend and most of the planning was done from 1,200 miles away!
My sister and I decided to surprise our parents and personalize the weekend just for them.
The anniversary/reunion was at Double JJ Ranch in Rothbury, Michigan, where our parents met. The restaurant overlooks a first-class golf course.
Three potential obstacles stood in the way of our scheme: (1) their anniversary date was Easter Sunday, (2) one sister was not easily won over to the idea, and (3) the cost! We made a reservation for Saturday and emphasized that Sunday was "family day" to attend church and for the grandkids to spend time with their grandparents. A college student was hired to babysit my seven nieces and nephews, which helped alleviate another sister's concerns.
What started out as a surprise dinner (and cake) ended up to be so much more! It was fun for the cousins, who swam together and did stuff with their dads, while the five of us had pictures taken at a local portrait studio, another surprise. A corsage and boutonnière were made with the same flowers as mother's wedding bouquet.
Weeks earlier, while my parents were away one day, one sister "broke in" to their apartment and found pictures and other items that might not be missed to make a collage. I contacted an old friend of mother's who had slides she gladly loaned.
The best surprise was that we booked our parents a room for the night: a three-story guesthouse with in-room jacuzzi and a wonderful view. We set up the "anniversary suite" with an overnight bag, a framed photo of the lovely bride, a letter and a CD with hits of 1957 and '58 all ready to go.
Saturday evening came and the secret was still intact. It was the first time since 1992 that all five daughters were in the same place at the same time with four husbands and seven kids. One sister and her husband picked up the anniversary couple for dinner.
There was going to be a lovely sunset during dinner and later … a full moon! As the honorees approached we all stood up and exclaimed: "Happy Anniversary!" They were flabbergasted and speechless. The evening went just as planned. I was afraid we would eat too fast and our arranged "kidnapping" at 9:00 PM would not work.
After dinner we had scrumptious chocolate and strawberry cake, our parents fed each other as they had done on their wedding day. Before anyone had a chance to think about seconds, gunshots and whooping were heard and a band of five masked men (and a woman) came in and targeted our table. They told us all to stand with our hands over our heads. My dad was chuckling and I heard my mother say, "What?" The female desperado roped my dad and one of the young men lassoed my mother with a "You're a sweet thing! Come along with me, now!" My mother wondered aloud whether she'd be back and that was the last we saw of them until the next day. They were taken by buckboard to the Loft and escorted to their room.
Weeks later, anniversary notices appeared in local newspapers. Unfortunately, the short text can't tell the whole story but the looks on our parents faces that night spoke louder than words!
Reported by Jill M. Clark, Cedar Hill, Texas.