Columbia, South Carolina
During our many excursions to downtown Chicago, I struggled to hold one child's hand while balancing my toddler in the stroller, trying to prevent decapitation by whizzing revolving doors and challenging escalators. Many (mostly white-collar types, interestingly) revealed their annoyance with looks and sighs. But it never failed: a construction worker or other blue-collar guy just helped without a word. The kids are teenagers now, but I still feel thankful whenever I daydream about those days. People who help simply because they can is a perfect slogan for these convention and visitors bureaus (CVBs).
It only takes a phone call to get the Columbia, South Carolina, CVB in action. "We ask for reunion particulars: what kind of reunion, how many people and where they'll be coming from, the dates and special requests," explained Sandi Owen, Marketing Manager for the Midlands Authority for Conventions, Sports & Tourism. "We can arrange a visit for the reunion planner to area hotels and city tours. Once the planner selects dates and budget, we solicit information from area hotels and meeting venues. We prepare a comprehensive package of hotel information, room rates and other services such as florists, photographers, transportation options, tours and things to see and do. We are truly a planner's 'one stop shop.'"
"For family gatherings we suggest a visit to the State Department of Archives and History, where you can get the ball rolling on genealogy research." Andrena Davis, CVB Sales Manager, who represents the multi-cultural market, and says 98% of African Americans can trace their families to South Carolina!
Columbia is a favorite site for military reunions. "South Carolina and Columbia, especially, love the military," said Executive Vice President for Sales and Marketing Dave Zunker. "More veterans per capita live in South Carolina than in any other state, which allows us to draw large numbers to reunions." Columbia is home to Fort Jackson, the largest US Army initial entry training base in the world. The 9th Air Force headquarters and two F-16 Squadrons are located at Shaw Air Force Base, just 40 miles away and the South Carolina Air National Guard and their F-16s are 20 miles away. Columbia has hosted many military unit reunions in recent years, including the Doolittle Raiders 50th and more recently their 60th—attended by over 60,000 people. According to (Ret.) General Woody Randall, chair of Celebrate Freedom Festival, "The Columbia area has the knowledge, experience and facilities to plan and host reunions small, medium and large." Consider some of these excellent reasons to choose Columbia for your next reunion.
Columbia, South Carolina's capital, is in the center of the state, midway between New York City and Miami. The Columbia Metropolitan Airport welcomes 50 flights daily, Amtrak offers service and three major interstates provide easy driving access. The weather is ideal year-round to enjoy various attractions. There are 20 resort-quality golf courses, performing arts, visual arts, sports, history, hiking, biking, rowing, camping, fishing, activities for kids plus 50,000-acre Lake Murray and Class IV rapids just outside town. The South Carolina State Museum was ranked #3 in the nation by Southern Living magazine. According to Owen, quality is affordable in Columbia. South Carolina's Department of Parks, Recreation and Tourism lists Columbia's average daily room rate as $58.14 and Expo Magazine recently listed Columbia as #1 Bargain Destination. See for yourself at www.columbiacvb.com or call 800-264-4884.
Salt Lake City
What's the nation's fastest growing hobby? Model trains? Knitting? Getting your own TV talk show? Genealogy is tops and Salt Lake City is the topmost destination for novice and expert genealogists worldwide to search the world's largest genealogical data collection at the Family History Library. The library's FamilySearch Center has hundreds of computer terminals loaded with census data and provides an easy introduction for genealogy newbies. The center's volunteer staff offers research assistance.
The Salt Lake City CVB is waiting to lend a hand to plan your next reunion, whether you're a seasoned planner or putting it together by the seat of your pants—for the first time. According to the CVB's Natalie Clawson, staff can help you customize day trip excursions, arrange for transportation and provide tour guides. After your initial call, you'll receive a free Salt Lake Visitors Guide and group tour manual with current rate and availability information.
There are 17,000 rooms in Salt Lake County with nearly 8,000 in the downtown area, so finding a place to meet and sleep isn't a problem. Salt Lake City is home to hundreds of restaurants, bars and clubs, world class group attractions and unique shopping districts. The first department store in the US opened for business in Salt Lake City in 1868. Salt Lake's factory stores and specialty malls offer free coupon books.
The Mormon Church has played a major role in Salt Lake's history. The Church headquarters, historic Temple Square, is Utah's most popular visitor attraction and houses the world famous Mormon Tabernacle Choir. Complimentary guided tours and special group seating at Mormon Tabernacle Choir concerts and rehearsals can be arranged. Contact the Salt Lake CVB at 800-541-4955.
Almost 50 acres of historic sites, interactive exhibits, art displays, films, parks and gardens await reunion groups at Temple Square. Temple Square attractions and tours are complimentary. In addition to the FamilySearch Center and the Mormon Tabernacle Choir, Temple Square offers the Museum of Church History and Art, Salt Lake Temple and Beehive House—Brigham Young's official residence. The Church of Jesus Christ of Latter-day Saints headquarters has a 26th floor observation deck with a spectacular city view and four award-winning restaurants. Temple Square Hospitality provides customized packages to suit your group's needs and interests. Packages may include lunch or dinner, complimentary guided tours of attractions, and/or arranged seating at a Tabernacle Choir rehearsal.
Salt Lake City hosted the Winter Olympics in 2002 and Olympic attractions still bring groups. See public ski jumping and bobsled training facilities, winter sports museum and Olympic Cauldron Park. You might also cheer Olympic hopefuls training in bobsled, luge, skeleton, and ski jumping at the Utah Olympic Park, 25 minutes from downtown.
Known as the Crossroads of the West, Salt Lake City boasts easy access by rail, air and highway, including two interstates running through the city. It's within a day's drive of 15 national parks and monuments. Amtrak provides links to east and west and the international airport is just 10 minutes from the city center. Start planning your Salt Lake City reunion by gliding over to www.visitsaltlake.com.
St. Charles, Missouri
Just as Salt Lake City reveres its Mormon pioneers, St. Charles, Missouri, is a warm and welcoming community valuing its heritage in America's westward expansion. Lewis & Clark launched their expedition from St. Charles at a site in the city's Frontier Park. Launch your reunion mission by contacting the St. Charles CVB. "We are here to help you plan your reunion," explained Karen M. Fraser, Executive Sales Assistant at the Greater St. Charles CVB. "Our goal is to make your job easier and for your reunion to be the best it can be. Our support includes welcome letters, welcome bags with gifts, name tags, brochures, maps and lists of medical services, hospitals and churches. We'll help plan and coordinate sightseeing trips, guided tours, luncheons, banquets, entertainment, memorial services and transportation. Volunteers are available for registration services, too."
"I cannot say enough about the professional service provided by the St. Charles CVB," said Col. L.J. Buddo of 5th Air Force 314 Composite Wing Reunion. "They always responded pleasantly with information I requested. I have worked with CVBs before, but never had the assistance I received from this office. Our reunion in St. Charles was one of the best we've had." Wayne Mueller of the 304th Signal Operations BN WWII Reunion was so impressed with St. Charles that he brought his group in 2002 and 2003. "We had a great reunion and received only high praise from participants," he explained. "It wouldn't have happened without the Greater St. Charles CVB's assistance. They made my job the easiest I have encountered in doing five reunions." The band does things the "old style" for this occasion.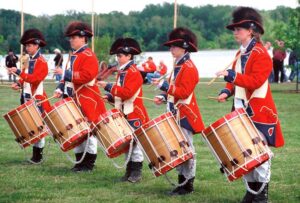 Take a carriage ride or stroll amid the early 19th century ambience of Historic Main Street, Missouri's largest Nationally Registered Historic District. Your group will appreciate 125 charming shops and 25 restaurants, from casual pubs to elegant cuisine.
Founded in 1769 as Les Petites Cotes ("The Little Hills") on the banks of the Missouri River, St. Charles transports you to days of riverboats, prairie schooners, riflemen and pioneers topped with small town charm and one-of-a-kind attractions. Walk or bike the Katy Trail, take an autumn foliage tour in the rolling, wooded hills of nearby wine country or try eagle watching at the confluence of the Missouri and Mississippi Rivers. Pencil in a visit to the Daniel Boone Home or see The General Motors Assembly Center and the Commemorative Air Force's Missouri Wing museum and aircraft. Veteran's Memorial Walk, a moving and solemn tribute to all US military personnel and veterans of all eras, is a must-see.
The St. Charles area's reunion-friendly hospitality professionals offer banquet facilities accommodating up to 500 people, and a combined 1700 hotel rooms at various prices. Lambert-St. Louis Airport is about a 20-minute drive and Highway 70 runs east-west, making Saint Charles an easy and convenient destination. See what's in store for your next gathering at www.historicstcharles.com or call 800-366-2427.