by Carole Neal
It is good to get together with family! Reunions strengthen the family. Reunions provide an opportunity for a joyous gathering of kinfolk. Family reunions are a time –
to honor family elders and our forebears
to remember those who have passed on
to encourage and support younger family members
to celebrate our heritage, share the family history and family stories to welcome new additions to the family.
Family reunions are medicine for the soul. They provide the perfect setting for fellowship and socialization with family, and time to enjoy some "good eatin'" and learn of the many talents, accomplishments and achievements of family members.
A family built on a solid foundation is like a tree – sturdy and strong, with deep roots, to withstand the storms of life. A tree might bend and sway, but that does not mean it will break. As enslaved people, our ancestors went through very difficult experiences. Personally, I take inspiration in their strength and fortitude. Had they not survived, I would not be here.
The Neal Family is built on a solid foundation, passed down through generations to the Neal siblings: Carey Evans Neal, Charlie Ben Neal, Jesse Ward Neal, William Henry Neal, Solomon Louis Neal, Eleazer L. Neal, Jr., and Eliza (Neal) Matthews Ross.
Neal Family Reunions are held for descendants of Ollie (Ward) and Eleazer L. Neal, Sr. Since 2000, the family has gathered for its reunion every other year. Eleazer Neal, Sr. and Philip Neal were first cousins and descendants of Philip Neal and have joined us in celebrating our Neal Family Reunions.
History of Neal Family Reunions (edited for space)
July 1977
Winnsboro, Louisiana – home place of the Neal Family
In attendance at this special family gathering were Neal siblings Carey, Jesse, William, Solomon, Eleazer and Eliza. Charlie was unable to attend for health reasons, and this was the last reunion attended by Carey and Eliza. Also attending were descendants from other Neal family branches.
July 1988
San Jose, California – IBM Company Picnic Area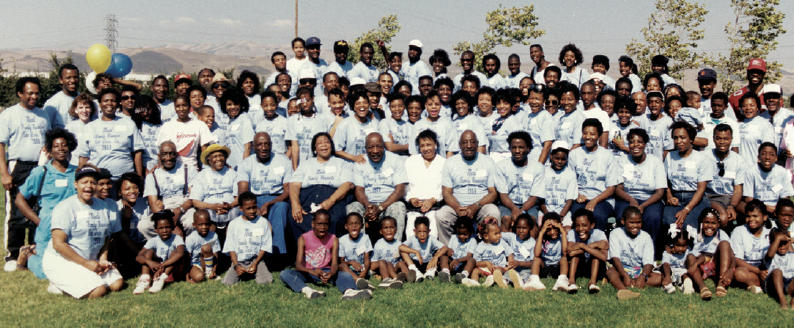 This special weekend Jesse Ward and Juanita Nina (Lewis) Neal celebrated their 50th wedding anniversary with a beautiful renewal of vows ceremony at their church home, St. John Missionary Baptist Church in San Francisco.
September 1995
San Jose, California – Alum Rock Park
West Coast Neals gathered for a one-day reunion.
July 2000
Winnsboro and Monroe, Louisiana

Vikki (Johnson) Day and Allison Johnson (William Neal branch) led planning for this tradition-setting Millennium Reunion. The reunion started in 1999 when family gathered in Winnsboro for the homegoing service for William Henry Neal. Following the funeral service family members talked about how we need to gather for a happy occasion. Thus, the idea to hold a family reunion.
July 2002
San Jose, California
Members of the Charlie Neal branch led reunion planning. The initial issue of "The Neal Connection," the family newsletter, was compiled and edited by Carole Neal.
July 2004
Winnsboro, Louisiana
On Day 1, as part of the "Meet & Greet," family members attended New Vision Baptist Church, pastored by Reverend Douglas Neal (William Neal branch). Amazing Friday night banquet was held in the cafeteria at Winnsboro High School, where John W. Brown, Velma's husband, (William Neal branch) was Principal. On Day 3, family members assembled and enjoyed lunch at Winnsboro Junior High School, where Kenneth W. Blackson, Sr. (William Neal branch), was Principal. On the last day, Praise and Worship service was held at the family's home church, Augusta Baptist Church in Winnsboro. Reverend Emmett Neal (Jesse Neal branch) was the guest minister.
July 2006
Baltimore, Maryland
We visited Baltimore's "Great Blacks in Wax Museum."
July 2008
San Francisco, California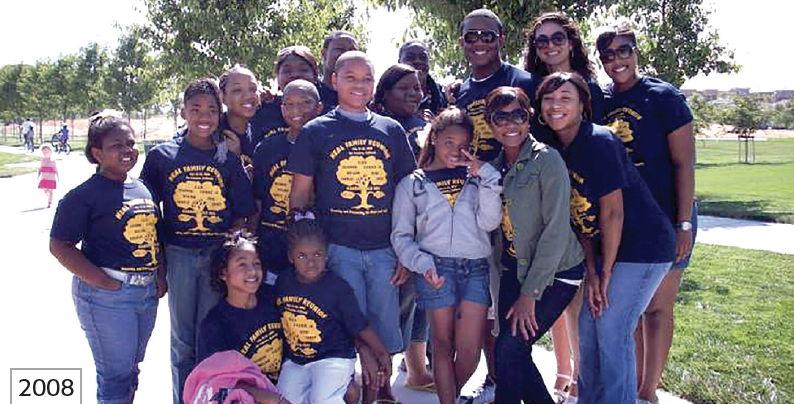 Carole Neal (Solomon Neal branch) led the reunion planning. The Friday evening banquet included acknowledgement and recognition of Young Family Achievers. The banquet program included a candlelight memorial; young family members from each branch participated by lighting candles representing each family branch, as the names of those who had passed away were read. The Sunday worship service and farewell dinner were held at the historic Macedonia Missionary Baptist Church in San Francisco, pastored by Rev. Emmett Neal (Jesse Neal branch).
July 2010
New Orleans, Louisiana
LaTanga (Neal) Blackson (William Neal branch) led the planning for this reunion, five years since Hurricane Katrina devastated New Orleans. New Orleans Saints were the Super Bowl XLIV Champions! The Friday evening banquet opened with a Mardi Gras-inspired Second Line Band Processional. Family members from Louisiana paraded the banquet room, sporting elaborately decorated parasols and tossing Mardi Gras beads and trinkets. At Sunday's church service, Reverend Russell Neal (Carey Neal branch) delivered an inspirational message of the 2010 reunion theme, RESTORED, EMPOWERED, AND RENEWED. Church was followed by a Louisiana-style brunch.
July 2012
San Antonio, Texas
Michael Williams (Eleazer Neal branch) led reunion planning. Friday many came dressed in Western attire including boots and cowboy hats to the Western-themed evening banquet. Saturday was a day-long outing at Rio Cibolo Ranch, including a hayride, feeding long-horned cattle, and learning how to Texas Line Dance.
July 2014
Kansas City, Missouri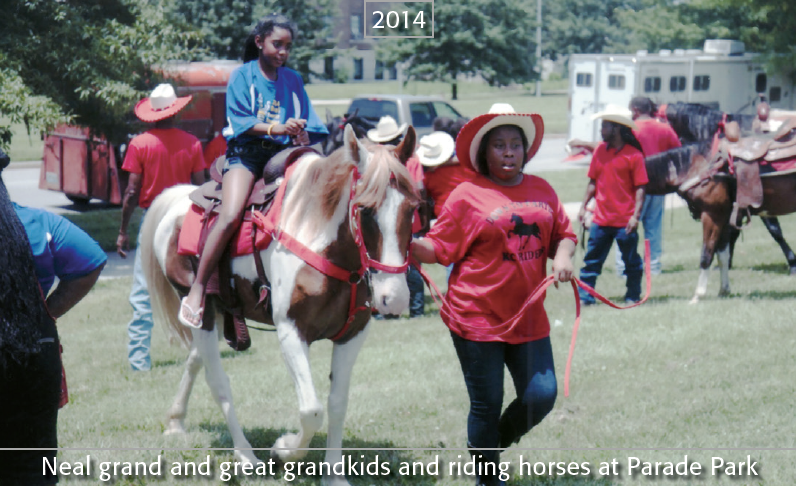 Merideth Parrish led planning for this reunion. Family members were grouped into four teams (blue, green, purple, and red) for challenge games and other activities. Teams chose names: The Redeemed and Royal Blue Team, Team Money! The Purple People Eaters, and Team Red Light. Saturday, following a presentation by the Down to Earth Riders, cousins of all ages had a grand time riding horses at Parade Park
July 2016
Memphis, Tennessee
Robin Wilson Tucker (Carey Neal branch) led planning that featured a Friday evening banquet aboard a Mississippi riverboat cruise. Saturday was especially meaningful, as we visited the National Civil Rights Museum, built on the site of the Lorraine Motel where Dr. Martin Luther King, Jr., was assassinated on April 4, 1968. The Neal Family Choir, directed by Michael Williams, sang at the Sunday worship service, accompanied on keyboards by Berdinia Ludley (Philip Neal branch).
July 2018
Houston, Texas
Monica (Neal) Russell (Carey Neal branch) led the planning for this reunion. The Friday banquet's theme was "A Night of Elegance." Family members came dressed in Black and/or White attire. Presentation of achievement awards and a surprise performance by Gladys Knight & the Pips (aka Cousin Tan, her husband and two sons) were the highlights of the evening! There were a number of fun activities at the Saturday picnic. The Sunday morning worship service was uplifting and comforting. The Neal Family Choir sang beautifully. We are still "enjoying" the reunion through photos and videos.
July 2020
Winnsboro, Louisiana
A personal note: It is wonderful and gratifying to see how members of the next generation have stepped up to take on the planning of Neal Family Reunions. Planning a reunion is a monumental task and all your hard work is so very much appreciated. Thank you to all who have volunteered to help in the past, and will volunteer to help in the future. Participation by all age groups helps to ensure that each reunion is enjoyed by everyone.
About the author
Carole Neal, Castro Valley, California, author of this history, is daughter and second child of Solomon Louis and Fannye Deborah (Seals) Neal, and one of the Neal Family historians.
Copyright © 2018 Carole E. Neal – all rights reserved