It's your turn to plan and organize the next reunion and your cerebral architecture begins crumbling at the thought of the undertaking. As you slog through the preliminary phases, your friends and relatives are more like a demolition crew debating sites, activities and costs. It's time for an ace developer to help put your meeting together brick by brick, if necessary, leaving you to simply cut the opening ceremony ribbon. Renovate your reunion with a helpful, welcoming convention & visitors bureau.
"Serving as a planner for a reunion is an awesome responsibility with a vast number of decisions," explained Ramona Moon, Convention and Meeting Sales Manager for the Fort Smith Convention & Visitors Bureau. "Our services are designed to join our staff with the planner as team members with the ultimate goal of making their reunion experience as pleasant and stress-free as possible. Fort Smith, Arkansas, is a mid-south destination offering economy, safety, variety, history and above all, southern hospitality with a strong work ethic toward exceptional customer service." Moon said.
The service list is only a sample of the lengths to which the Fort Smith CVB will go to ensure a successful reunion.
In the pre-planning stage the CVB prepares bid proposal packets including lodging, banquet and activity choices meeting the group's parameters, agenda and budgetary requirements. Pre-planning services include the CVB serving as your liaison to the City of Fort Smith and the local area hospitality community. The CVB also secures group room rates from quality Fort Smith hotels / motels interested in serving as host property for the reunion; provides a site tour of Fort Smith facilities and lodging options; assists novice and veteran planners with their complete reunion planning process such as establishing a working budget, setting agendas, selecting menus and entertainment, etc.; and provides promotional materials creating interest and excitement to build reunion attendance.
After you've decided that Fort Smith is your kind of town, the CVB connects you to organizations providing entertainment, color guards, taps, memorial services and media information. The staff even helps with attendee premailings and arranges VIP greetings from local dignitaries! Once you arrive in this lovely southern city, the Fort Smith CVB provides printed materials and maps so attendees can familiarize themselves with the area. "The Diplomats," a volunteer group, can be scheduled to greet members and familiarize them with Fort Smith as they hand out registration materials for efficient check-in.
"Our list of services is totally customer driven," Moon explained, "therefore, new areas of assistance are constantly being added and old ones constantly updated to best accommodate the unique needs and requirements of each reunion group."
Fort Smith uniquely combines "Old West" history with antebellum "Old South" gentle charm. The Fort Smith CVB is known to the locals as "Miss Laura's," a historic building and the only former bordello listed on the National Register of Historic Places. Carolyn A. Joyce, Group Travel Sales Manager & Administrative Assistant for the CVB, works with the reunion planner on a city tour. "They enjoy coming to Miss Laura's where I will be in costume at Miss Laura to greet them and give the tour of this beautiful building." You can arrange a trolley bus, which they catch here at Miss Laura's for an interpretive tour of our 22-block Belle Grove Historic District. For evening entertainment following a meal or banquet, Miss Laura's Players can entertain with "The Medicine Show on Hanging Day," a musical comedy, now in its 9th year. "Reunion groups have enjoyed it immensely," Joyce said. Some of the other areas on the city tour include The Fort Smith National Historic Site which houses the courtroom of Judge Isaac C. Parker who came to be known as the "hanging judge" and the hanging gallows. You can see a video about Fort Smith's history and the old jail known as "hell on the border." There are also exhibits and displays about movements that touched Fort Smith, such as The Trail of Tears, The Land Rush, Gold Rush, etc. Across the street The Fort Smith Museum of History houses exhibits and displays about early Fort Smith days as well as an exhibit about General William O. Darby, famed leader of Darby's Rangers during World War II. The museum also houses an old-fashioned Drug Store complete with working soda fountain where your reunion may enjoy a break over a soda. You can catch the Electric Streetcar at the museum for a ride to the National Cemetery where both Judge Parker and General William O. Darby are buried, along with many veterans. Military reunions usually tour the home of General William O. Darby, where they find many mementos of his early years, as well as Rangers' memorabilia, an extensive WWII display, and items from Fort Smith's sister city, Cisterna di Latina, Italy. The CVB can arrange a drive-through tour of Fort Chaffee, built in 1941, and the training site for thousands of troops heading overseas during World War II. Elvis Presley began basic training at Fort Chaffee. The "823rd Tank Destroyer Battalion Association" gathered in the Arkansas town of 80,000 in September. About 35 of the World War veterans took in a city tour, the Medicine show and dinner, electric trolley, tour of Darby House and Fort Chaffee.
Family reunion planners choose Fort Smith because of its central location, beautiful scenery and varied activities. Some groups enjoy riverboat excursions or a mid-day train ride through the scenic Boston Mountains traveling over high trestles and through tunnels. Antiquing in downtown Fort Smith and across the river in Van Buren is another option.
The Vaught Association of the US, a surname association established in 1985, gathered in Fort Smith in July. Members may not be directly related but all are named Vaught or are descended from Vaughts from the one common ancestor who arrived in the US from Germany in 1733. The association originated in Somerset, Kentucky, where the group travels every other year, then to various locales with Vaught connections in the odd years. Kevin Vaught, a Fort Smith native, said, "They thoroughly enjoyed Fort Smith and we got compliments about the people, things to do and the city." A welcome social kicked off the reunion with Fort Smith Mayor Baker greeting attendees and proclaiming it Vaught Association Day. A local bluegrass band entertained while registrants checked in and visited. The next day the group enjoyed a ranger-led tour of the Fort Smith National Historic Site and then members went out on their own for trolley tours, a visit to Miss Laura's and shopping. "Saturday night we have an auction as a fundraiser to help publish genealogical books about the Vaughts," Kevin Vaught explained. "On Sunday, there was genealogical photo sharing and we sang songs with connections to the Vaughts like Carry me back to old Virginny and such." The group donated food to a local rescue mission and some of the association's genealogical books to the Fort Smith Library.
For more information about this colorful city and how the CVB can help your next reunion, contact the Fort Smith Convention and Visitors Bureau at 800-637-1477; www.fortsmith.org.
---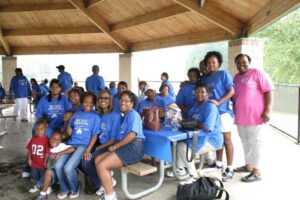 Perhaps the best way to describe what Georgia's Gwinnett Convention and Visitors Bureau can do for you, the reunion planner, is to take a look at a recent letter the CVB received from Rick Smith of the Abrams Family Reunion. He addressed it to Guy H. Van Ort, the Director of Sales.
"Once again I would like to say…Thank U!!! I had 75 people at my reunion, a few less than the 100 I was shooting for but out of 75 about 74 had a great time. The hotel was five star and if they could, some would have moved and built a house at Pickeyville Park, it was so awesome. Thank U and the whole county, everything in Gwinnett was top notch and nothing but class. Only a few of the 75 even left the county for the 4 days. They stayed busy right around the hotel. Like I said when we first talked, you were really the first person that offered me help and that kinna got my ball rolling know I didn't have to do this alone. Thank U again."
Smith loved the location of the Gwinnett Place Marriott. "It was a killer location and they gave us a good deal with the hospitality room," he raved. "Guy at the CVB was the only person to call me back from any of the CVBs I contacted. When I needed direction about places to go, he was on it all the time and he just acted liked he gave a damn." The reunion group ranged in age from 5 to 87 years old and received welcome packages with coupons for the Mall of Georgia. "We always have a barbecue and the one we had at Pickeyville Park was amazing. For a public park, it was clean, looked brand new and the restrooms were spotless, the grass was nice and we had a covered pavilion. Our reunion members were blown away by the state of the park — you know, little things make the difference."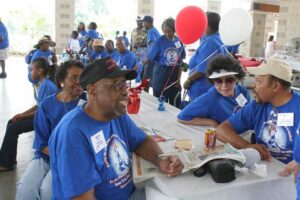 Gwinnett County is Atlanta's shopping and golf destination offering affordable accommodations, dining, great shopping, special events and family-friendly attractions. Gwinnett County is the home of Atlanta's newest garden railroad, the state's official transportation history museum and some of Georgia's most highly regarded golf courses. Die-hard shoppers will find more than 4.3 million square feet of retail shopping and history buffs shouldn't miss Stone Mountain, the world's largest granite monolith. Hop on I-85 or I-285 just minutes away from Atlanta's most visited attractions, World of Coca-Cola, Zoo Atlanta and Turner Field.
To receive your own VIP service call Gwinnett County CVB at 888-494-6638; visit www.gcvb.org.
---
When you hear "Northwest Florida's Emerald Coast," you might think you merely need to deposit your members in a hotel and stir. It was voted "Best Beach In The South" and "Top Family Destination" eight years running by Southern Living Magazine readers, too. There's a lot more to do than lolling on the beach and infinitely more to organizing a reunion. That's where the Emerald Coast CVB comes in. "The CVB prepares welcome packages for family and military reunions," explained Sherry Rushing of the CVB. "Videos, promotional materials and name badges are made available to reunions and a friendly follow-up call is made following the reunion to ensure the festive event went well."
Rushing noted that military groups are naturally attracted to the area with Eglin Air Force Base, geographically the largest military installation in the world, located in Fort Walton Beach. "We also have Hurlburt Field, home to the Special Operations Command, just a few miles west of Fort Walton Beach" she clarified. The Explosion Ordnance Disposal (EOD) Master Blasters, numbering 1000 members, have held their reunion on the Emerald Coast 14 years in a row. The EOD group, traveling from all points in the US and Great Britain, usually gather the weekend closest to Armistice Day in November. "The first night is an icebreaker," explained Roger Holland, President of the organization, "with appetizers and a general meeting. Saturday, we tour the EOD Navy facility and Eglin Air Force Base and at night we have our banquet. The Memorial Service at EOD Navy School is held on Sunday and a picnic follows. This year we've added a day to visit the Pensacola Navy Museum, about 60 miles away." The group can count on between 200-300 attendees every year and they appreciated the service received at the Ramada Plaza Beach Resort. Military groups and families should pencil in a stop at the US Air Force Armament Museum, the only US museum dedicated to the display of Air Force armament. See 25 reconnaissance, fighter and bomber planes such as the B-17 Flying Fortress and SR-71 Blackbird Spy Plane. Four wars — WWII, Korean, Vietnam and Persian Gulf — are spanned through a fighter cockpit simulator, thousands of weapons, war films, photography exhibits and more.
You needn't be a military group to enjoy meeting along the playground of Northwest Florida. Willie Farrow and the Heard Reunion, 100 strong, gathered in July to enjoy the area's natural beauty. Families are attracted to the fabulous beaches and attractions such as Gulfarium, America's second oldest marine park, which hosts Atlantic bottlenose dolphins, California sea lions, Peruvian penguins, Ridley turtles in 14 fascinating Gulf-edged exhibits. Contact the Emerald Coast Convention & Visitors Bureau at 800-322-3319 or coast over to www.destin-fwb.com.
Emerald Coast has countless, lovely and not always expensive places to stay. Our favorite is TOPS'L Beach and Racquet Resort which proudly takes it's place along the 26-mile white sand beach. Wonderful condos provide everything you need to move in, hang your clothes and get out and play. Accommodations for families of six with sleeping sofas in the living room are completely furnished with all the comforts of home. Here, however, you don't wonder why you left home, just step onto your balcony and listen to the Gulf of Mexico which is probably something you don't hear at home! Another Broken Egg Café and The Donut Hole are great breakfast places and very popular but worth the wait. Lunches and dinners are front and center at Anglers Beachside Grill adjacent the Pier, The Back Porch Seafood and Oyster House and The Lucky Snapper.
Visit Okaloosa Island Fishing Pier where, if you like to fish, you'll share with the pelicans who are grateful creatures. No fishing license required and all the supplies and equipment you'll need is for rent. Call 850-244-1023. For other water sport equipment and boat rentals contact Bayside Watersports, call 850-302-0021.
For the adventurous, a trip aboard the Nathaniel Bowditch seems essential. The sailing ship is a 54' traditionally rigged steel, sonar equipped, three masted schooner. Choose a dolphin or sunset sail, sea shell safari or starlight cruise. Licensed for 22 passengers. Call 850-650-8787; [email protected].
Shopping is a favorite activity in the area. There are a number of extensive malls and some smaller ones that certainly attract residents and visitors alike. Caution: Silver Sands Factory Outlet can wear you out.
Something we did not need to use but which sounds intriguing is the Okaloosa Island Shuttle provided free by Okaloosa County Tourist Development. For info call 850-833-9168; rideoct.org.
About the author
Journalist/Editor Jacky Runice has penned a weekly travel column for Chicago's Daily Herald since 1994 and writes about travel and dining for USAToday.com; CBS Local Chicago; and Examiner.com. She expands her repertoire at Kane, Lake and McHenry County (IL) Magazines with articles about everything from healthy living to technology. A former Chicago radio talk show host, Jacky has three grown children who have inherited her love of sampling new cultures, countries and cuisine.