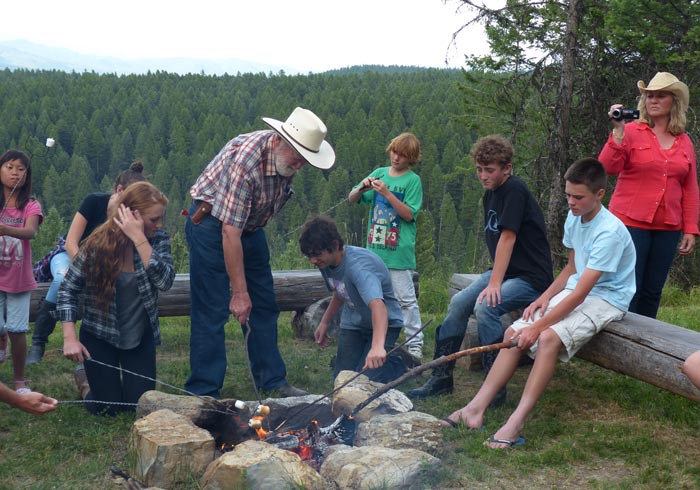 The Bar W Guest Ranch in Whitefish, Montana, hosts numerous multi-generational stays. Most notably, we hosted the McClellan Family Reunion to celebrate the 80th birthdays of their Grandma and Grandpa. The family was from all over the US and England, and this was the first time in many years they had been in the same place at the same time. The family — ranging from six to 80 years old — enjoyed a variety of activities. Younger children were kept busy at the summer kids program while older kids experienced more exciting trail rides and horsemanship lessons.
The ranch hosted a surprise birthday party where each member shared a special token of appreciation, including treasures flown overseas, a duet, and poems written about this special gathering. The McClellan family of 16 was able to share an extraordinary experience in a place where they felt at home. They bonded during square dancing, wagon ride dinners, skeet shooting, campfires, and in the quiet that surrounds the ranch. Stories were shared and memories were made!
Visit http://www.thebarw.com
These two testimonials about Bar W on TripAdvisor are from the Plotz Family Reunion.
"Best Family Vacation Ever"
Our three-generation family of 11 just spent a week at the Bar W and loved everything about it. Horseback riding was the main attraction. Both experienced and inexperienced riders made great progress in our skills and pleasure in riding. Trail rides through the high timber were especially beautiful. The Guest Rodeo on the last day was a delight. We learned to herd steers, to rope, to compete in a barrel race.
The wranglers were kind, skilled, and a lot of fun. There were lots of other activities: swimming, boating, mountain biking, square dancing, a rodeo, whitewater rafting, a beautifully supervised program for small children. There are also many comfortable spaces inside and outside the lodge where we could relax, read, talk. Food is served family style and is family friendly-bountiful home cooking with flexible accommodation for our vegetarians. 
Most of all, the Bar W reminded us how friendly, personal and flexible a small family business can be. All the children requested that we come again next summer.
"Perfect place for a family vacation"
Only a couple of us were interested in horses. I had never ridden before Bar W. The horseback experience was amazing. My son and I both left wanting to ride all the time. The week ended up being the best family vacation every single one of us had ever taken.
Here are a few basics. Meals were fantastic. Accommodations were lovely and the location is spectacular. Staff were uniformly kind, good natured, fun and flexible. Wranglers were thoughtful teachers, who spent time figuring out how to teach us. Most fun part: The morning we spent herding steers! They arranged a variety of non-horse activities that were uniformly delightful, including spectacular whitewater rafting, mountain bike-riding, rock-climbing, skeet-shooting, and hiking. I could not recommend the Bar W more highly to a family seeking a wonderful dude ranch experience.