Facebook played an important role in getting Martin and Mary Anne Groen in touch with a relative from the Netherlands, who, a few months earlier, they didn't even know existed. Hendrik Heerschop, 52, lives with his wife and two children in the Netherlands where he owns a business restoring gravestones. He is Martin's third cousin. Hendrik flew to meet his newly discovered California relatives. They hit it off quickly as though they'd known each other their entire lives.
The experience started when Mary Anne received a peculiar message from Hendrik on Facebook, claiming to be her long lost relative. She considered dismissing the message but saw Hendrik was friends with Martin's first cousin so she responded. Hendrik was trying to fill gaps in his family tree, but the brother to his great-grandfather was missing entirely. His luck changed when he found www.findagrave.com, and a gravestone in Platte, South Dakota. He left a note on the page and got a reply from someone looking for the same family. The two emailed and confirmed they were related. They exchanged family trees which filled in gaps on both sides. Before this, the American Groens had no knowledge of their family in the Netherlands. After the connection, Hendrik quickly got on to Facebook and emailed every one with the last name "Groen."
The first stop on Hendrik's US trip was in Platte, where he met new relatives and saw the town his ancestors immigrated to many years ago.
From a story by Aaron Carnes, Morgan Hill Times, Morgan Hill, California.
---
"Now I understand where my red beard comes from"
Jan Smeets, Netherlands
A retired police detective, Jan Smeets describes himself as a simple guy who enjoyed his career greatly. He relished the excitement of detective work and the remarkable stories he gathered through the course of his years of service. When he retired, he heard enthusiastic stories from friends who had become involved in genealogy. They encouraged him to consider searching for his roots now that he had more free time. This piqued his curiosity: could genealogical research put him back in detective mode?
But Jan was reluctant to pursue this new hobby, because he assumed it would be a complicated process of mastering genealogical jargon and spending years digging through old archives.
"I wanted to find out more about my roots on my computer, when it suited me. I wanted to research in a way that was accessible and easy to understand, so that I could immediately get to work."
Jan eventually found himself on the MyHeritage website, where he found the convenience he was looking for: "It was as simple as riding a bike — jump on and go!"
Now Jan uses the mindset he developed in policing for his family history research. He starts his investigation with the central questions that guided his detective work: Who are the suspects? What can I logically exclude? Where do the clues reasonably lead?
His family history journey on MyHeritage led Jan from one surprise to the next. When he started, he expected to be able to go back to about the year 1800. But in a few short months, he has amassed a family tree with over 4,500 names, going as far back as the year 380!
This is partly due to the marriage of his direct ancestor Peter Smeets to the noblewoman Maria Helena van Valckenborg in 1775. Because this line of Jan's family is of noble descent, its history is well-documented.
"The nobility in Europe forged political ties through marriage. And so I've also found that I'm related to English and Scottish monarchs."
One of the most surprising discoveries came when, Jan says, his enthusiasm led him to delve into his wife's family history as well.
"Around 1850, our family trees connect. We're distantly related!"
But the icing on the cake was when Jan came across a direct ancestor named Emperor Frederick I. Also known by the nickname Barbarossa or Redbeard because of the striking color of his beard, Jan says of the 12th century German emperor: "Everything indicates that he was a direct ancestor of mine. Now I finally understand why, as a young man, I had a red beard!"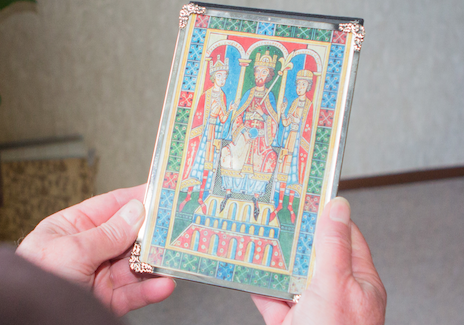 Aside from these types of surprising connections to historical figures, Jan has also found personal meaning in his family history: through his search for his ancestors, he has gotten to know himself better, too.
"It's nice to see similarities in terms of personality. For example, I have a very calm character. Many of my ancestors had administrative and government professions. In these kinds of official roles, you need to keep your composure. Perhaps this quality passed on to me from generation to generation."