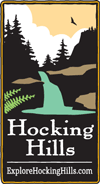 HOCKING HILLS TOURISM ASSOCIATION
13178 State Route 664 S, Logan, Ohio 43138
The Hocking Hills are Ohio's natural crown jewels and the perfect location for reunions. The region is a mecca for nature based recreation. World class hiking, eco-adventure tours and more than 50 ziplines. Luxury lodges provide private resort amenities for groups of three to thirty. Located just 50 miles southeast of Columbus. Have your reunion in Hocking Hills, Ohio.
Contact: Karen Raymore
740-385-2750
Fax: 740-385-1146
kraymore@explorehockinghills.com
ExploreHockingHills.com