Food wisdom
"Food is probably the easiest way to preserve a sense of family and heritage," says Diana Baird N'Diaye, program curator for the Smithsonian Center for Folklife and Cultural Heritage. "Most people love to prepare favorite dishes from childhood and share with others. Recipes are passed down, stories are told. Kids are usually involved in the easy parts of preparation, so they absorb it all."
from the Washington Post
Food as décor
No money for centerpieces? Use food! A bowl of fruit can be arranged in a pyramid or fill a large platter beautifully. The fruit can be used as between-meal snacks or dessert. Other centerpiece-worthy food arrangements include platters of cookies or a colorful trifle in a beautiful bowl. Fancy decorated cakes will intrigue those who look forward to digging into them.
Tailgate tips
If your reunion activities include "a game," take your picnic to the ballpark.
Safe tailgating means keeping hot food hot and cold food cold.
Pack food in airtight containers or bags that seal tight.
Chill cooked foods in the refrigerator before packing them in the cooler.
Pack highly perishable foods right next to ice in the cooler.
Transport the cooler in your car's interior, not in the hot trunk.
Put cooler in the shade and keep the lid closed
Using restaurants
Planning your reunion in your city, where you have lots of favorite restaurants? Which one(s) to choose? How to choose? How about a dine-around? Take your reunion to more than one of your favorites. Introduce your guests around town.
Consider your group's demographics.
Work only with restaurants that understand group business.
Determine a budget, then find out if restaurants can work within those limits.
Be sure each has appropriate staffing levels.
Decide whether an open or cash bar will suit your needs. Consider limiting drinks to beer and wine if cost is a factor.
Are restaurants able to accommodate food allergies or dietary restrictions?
Hold a tasting; don't rely on reviews or reputation.
To enhance the experience, add music, décor, entry signage.
Have servers welcome guests with pre-poured libations and hors d'oeuvres.
Proofread all printed menus.
If time is an issue, pre-set a schedule to expedite food service.
Have someone travel about an hour in advance to ensure that the restaurant is on schedule and that tables are properly set.
Short-cuts for party planning
Use only finger foods so no utensils are needed.
Pick up baked goods.
Decorate with bowls of fresh fruit such as colored grapes.
Pick up prearranged flowers.
Picnic spot
The ideal picnic setting is an area with large shade trees, on-site parking and necessary permits for entertainment (alcohol, fireworks). This venue should have sufficient liability insurance, paved access for wheelchairs, clean water fountains in working order, electrical outlets and safe boundaries. Have a backup location in the event of inclement weather.
It really takes a lot of help
When the Buet(t)schell family met in Texas, many family members from Texas took responsibility for making sure everyone was fed. Consider this list.
Marie and Tom Holsworth of Palacios took charge of the kitchen for morning drinks and snacks and all-day desserts. Sisters Diane Caddell of Kingsbury and Donna Culton of Mentz helped in the kitchen, as did their mother, Adeline Heintschel of Columbus. Many families contributed desserts.
The wonderful food was prepared by the Brod family under the leadership of Karen and Bobbie Brod of Cat Spring. Other family members who helped included Ray and Hazel Brod Braden of Alleyton, Marvin and Frances Brod of Cat Spring, Cecil and Beverly Brod of El Campo, Bobby and Irene Brod Morgan of Katy, Kent Brod of Cat Spring, Charles Harbich of Mentz and John Buettschell of Sealy. They charged actual cost for food; labor was their contribution to the picnic.
Their generosity helped meet most of our expenses from registration fees and donations. If we had hired a caterer, the meal would have cost at least twice as much.
Reported by Arliss Treybig, Buet(t)schell Family Reunion, El Campo, Texas.
---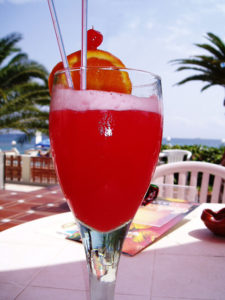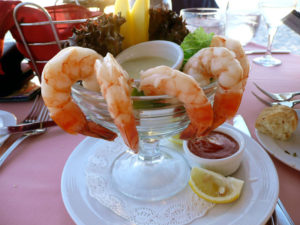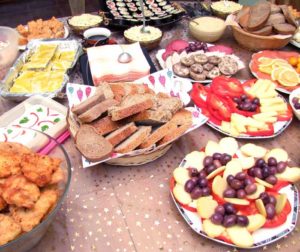 Cocktail party
If you plan a cocktail party among your reunion activities, consider these ideas.
Cocktail parties last two to three hours.
Provide festive non-alcoholic options.
Cocktail party menus that require plates and forks are impractical.
Cocktail party food
Choose style of service: buffet or tray-passed.
Keep hot things hot and cold things cold. Reheat thoroughly. Have plenty of ice to keep salads and chilled spreads cool.
Select menu items that can be consumed in one or two bites to leave hands free.
20 persons need at least 120 pieces.
Serve luxury items (shrimp, smoked salmon, caviar) first.
Have plenty of napkins and wet-wipes (especially for fried foods).
Provide four to six choices per hour in a range of textures, flavors and categories: crunchy, salty or savory, bread-based, dips or spreads and sweets.
Serve sweets at the end of the party to signal its conclusion.
Cocktail party equipment
Sturdy table
Cloth to cover table and buffet
Coffee urn with creamer and sugar bowl
Large cooler for ice
Platters, dessert tray or cake pedestal
Serving tongs, ice tongs, serving forks, fondue forks or bamboo skewers
Cocktail party tableware
all-purpose glasses
cocktail napkins
6-inch plates
plastic plates (the rigid kind)
small forks
coffee cups
platters, trays, baskets, toothpicks or bamboo skewers