---
"We found each other and I am so happy."
Nancy Bonno, California 
At age 13, Nancy Bonno from La Verne, CA, found out that her mother was adopted. Nancy overheard her mother, Kathy, and her grandmother discussing Kathy's birth certificate. When Nancy asked her mom, "Are you adopted?" her mom responded, "Yes, I am adopted, but Nancy, you ask too many questions." Despite her curiosity, Nancy understood it was best not to bring up the subject again.
Finally, at age 21, Nancy worked up the courage to ask Kathy about her biological parents. Kathy said that she didn't know much, but that she was now eager to find her biological family. Together they were able to piece together some of the story:
Nancy explained, "My mom's birth mother had my mom, disappeared, then reappeared to drop her off at the birth father's house, and was never seen again. In the end, my mom was raised by neither birth parent and ended up being given up for adoption."
In 2018, Kathy passed away without ever having met her biological parents.
Nancy decided that she still wanted to continue the search for Kathy's biological parents in honor of her mother's memory. She knew it was what her mother had wanted and Nancy felt it was important to close this chapter for her mother.
After watching a 20/20 episode that featured a family reunion based on a DNA test, Nancy decided that it was time for her to try to find her missing family by taking a DNA test herself. Nancy took several DNA tests and uploaded them to every free site she could find, including MyHeritage.
Unbeknownst to Nancy, Judy Cruz, Nancy's aunt, had taken a MyHeritage DNA test.
"A friend of mine went on MyHeritage and said, 'You know, it's unbelievable! You can find family that you didn't even know that you had.'" Judy said.
Judy was thrilled to get her results just a few weeks after sending in her DNA sample. Along with her ethnicity results, she got a DNA Match with Nancy — they have 870.8 cM of shared DNA.
Nancy recalls getting the email from MyHeritage about the DNA match with Judy. "I saw her picture and said to myself, 'Wow, she looks like my mom!'"
Judy and Nancy spoke on the phone that same evening. They slowly filled in the missing pieces and realized that Judy was Kathy's sister and Nancy's aunt. Both were absolutely delighted to finally discover missing family!
They decided to meet in person at Judy's birthday party so that Nancy could meet all the extended relatives.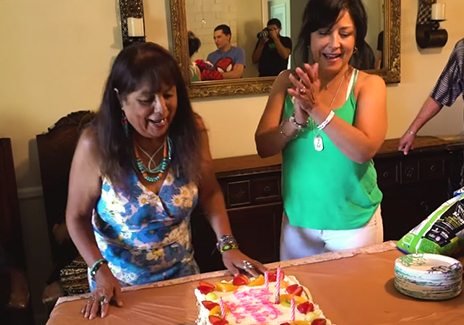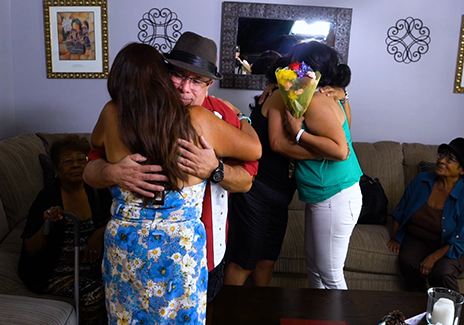 "I bought my kit, I sent in my DNA, and the rest is history! I have never done this before. I am so glad I did — LOOK. We found each other and I am so happy," Nancy said.
Judy explained that her sister, Kathy's mom, continued to celebrate Kathy's birthday and mentioned her often. Although Kathy's mom had recently passed away, it was comforting to Nancy to learn that her grandmother had cherished and loved Kathy throughout her life.
Nancy and her aunt Judy are thrilled to have the opportunity to connect and complete the broken circle in tribute to Kathy.
---
"I was flabbergasted!"
Kim Fairbank, New Hampshire 
New Hampshire social worker Kim Fairbank, 51, always knew she was adopted. After a rough childhood of familial disappointments, she yearned to connect with her biological family. She tried DNA testing and waited for answers. It was MyHeritage DNA that brought Kim the match of a lifetime — with her biological father.
The search
During her childhood, Kim was given up by her first adoptive family to another. She was adopted not once, but twice.
For me, being adopted, I never knew who my parents were. I just had a desire to find my biological family, or anyone who is related to me, to be able to find a family. That was kind of a drive for me.
When she was 21, Kim took the plunge and started to look for her parents. She hoped to get her adoption documents from the state, but nothing came up. She then joined other DNA testing services but didn't receive any helpful results. Moving on, she decided to join every site that could help in her quest. She uploaded her DNA results to MyHeritage and hoped that the answer was out there, waiting for her.
Kim almost gave up. She began to believe that she would never meet her family, that it would never happen for her. That's when she received an email from MyHeritage.
When I got the email from MyHeritage saying 'you have a parent-child match', I was flabbergasted. At that moment I was shaking and nervous, I couldn't believe it was true.
In New Mexico, Nio Tavlos, 73, took a MyHeritage DNA test mainly to learn more about his ethnic background. He wanted to know if he had only Greek blood, or whether he also had Turkish origins. Tavlos also suspected that he had fathered a child many years ago during a short relationship when he was 20. He believed that he had a boy who was given for adoption to a dentist living in Boston. As an artist, Tavlos' demanding lifestyle did not include any children.
Tavlos was so surprised to find that he was contacted by a daughter and not a son!
I was waiting for 35 years for this knock on the door. When the knock came, it wasn't a boy, it was a girl – Kim, and she is 51, and has two children. I have two grandchildren!
The reunion
Tavlos is thrilled to be a grandfather, and can't wait to share the rest of his life with his newfound descendants.
At this point in my life — in my 70s — I think I'm more prepared now to have a family. So I'm terribly excited, and shocked, amazed. Kim used a very good word to describe the situation – flabbergasted. That's exactly how I feel.
While Tavlos and Kim have many years to catch up on, they've decided that they won't waste any time getting to know one another!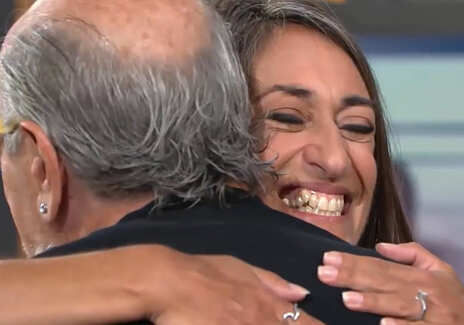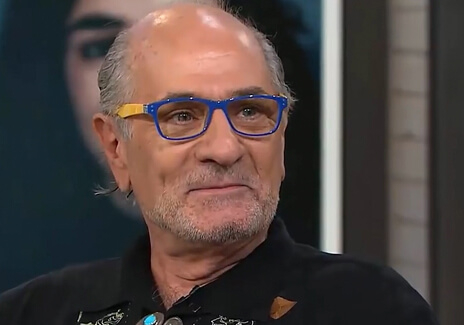 ---
"I feel grateful to have the family I have always been searching for."
Llinda Carrie, Miami 
Llinda Carrie, 35, from Upper Marlboro, Maryland, had been waiting to meet her biological family her entire life. She had grown up with one baby picture that had the name of her biological mom, but no other information to go on.
After spending many years searching for her mom, Llinda decided her best chance to discover family was through a MyHeritage DNA test.
After purchasing the kit and getting her results just a few weeks later, Llinda was excited to receive a DNA match with Rafael Moreno, from Miami. Based on the information on the back of her photo, Llinda and Rafael quickly made the connection that Llinda is Rafael's biological niece.
Rafael explained to Llinda that his sister, Llinda's biological mother, had given birth at age 21 and was unequipped to care for Llinda. She knew the best thing she could do was to give her up for adoption so that she could be raised by a loving family.
Although Llinda's biological mom passed away in 2009 from natural causes, Rafael's mom, Llinda's grandmother, is still alive, and was delighted to learn about Llinda and very eager to meet her.
Rafael invited Llinda to fly down to Miami to meet them along with the extended biological family, her three aunts, and many cousins.
In May, Llinda and her adoptive mom flew to Miami to meet her biological family for the first time.
Watch their emotional reunion at the Fort Lauderdale-Hollywood Airport.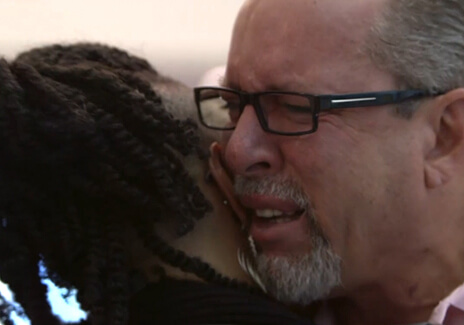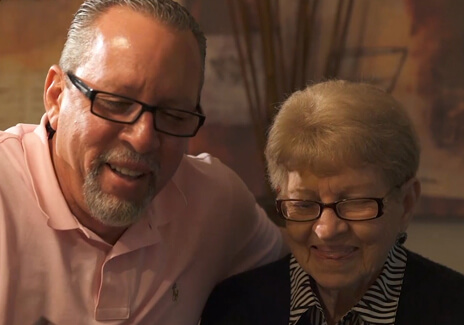 Rafael is so grateful to Llinda's adopted mother for raising Llinda when his sister could not. He explained that his sister and the family always had Llinda's best interests in mind.
Rafael explains, "Since Llinda was given up for adoption, we thought about her often, wondering what she was doing and hoping that she was well and being taken care of by a great family."
Llinda marvels at the instant bonds that she has formed with both her uncle and grandmother. Although sad that she didn't have the opportunity to meet her own biological mother, Llinda has taken comfort in meeting her grandmother and the extended family.
Llinda feels grateful to now have the family she has always been searching for, bringing a sense of closure that she hadn't experienced prior. She plans on returning to Miami in July with her son to meet the rest of the family.
---
"I always wondered where I belong"
Meribeth Blackwell, USA 
We're very happy to share this emotional and exciting reunion between a daughter and her birth mother who met for the first time live on Good Morning America, thanks to MyHeritage DNA.
Angie was a teenage mother and placed her daughter Meribeth for adoption in 1986. She never got to hold Meribeth in her arms after she gave birth to her, and she always hoped that she was adopted by a loving family.
At the age of 6, Meribeth was told that she was adopted and she had many unanswered questions.
It's hard because I love my adoptive parents so much, but at the same time I just wondered where I belong.
She turned to the Facebook group DNA Detectives and was advised to try DNA testing. She took a DNA test and got a match that changed her life — she'd found her birth mother, Angie!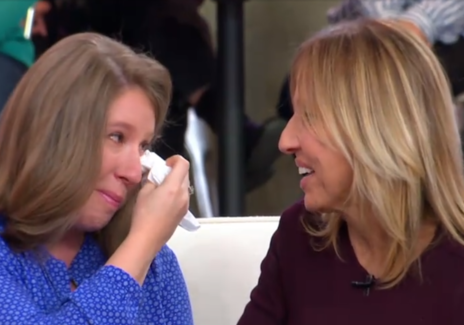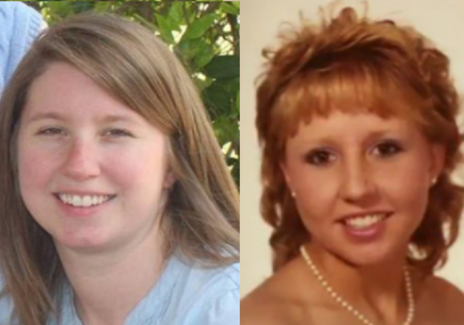 For 30 years, they had both wondered about one another and now, thanks to MyHeritage DNA, Meribeth and Angie were finally reunited!
Angie Oracoy held her biological daughter on live TV while trying fight back her tears.
Oh my gosh. You're so beautiful!
Meribeth was completely overwhelmed as she met her birth mother and her siblings for the first time.
It's so awesome. It's wonderful. It's such a good feeling. It feels so natural, too.
Angie also met her grandchildren for the very first time.
Angie and Meribeth live five hours away from each other and after many years of searching, they finally found one another.
---