All White Reunion Galas are a reunion trend
I read about lots of reunions. All the time. All kinds of reunions, doing all kinds of different and
wonderful things. Making up games just for their reunions, making intriguing t-shirt designs, touring,
exploring, honoring student achievement and elder wisdom, enjoying fellowship, worship and picnics in
the park.
And then, lately I'm seeing All White Reunion Banquets. After seeing it over and over with everyone dressed
elegantly in white, I decided I might be seeing a trend of some kind. But I have not come up with
an appropriate name for the trend!
I consulted several reunion planning veterans. Pamela Williams, Richmond, Virginia, wrote about her
Wilson Family Reunion. "The 'All White' reunion banquet/gala is what I would consider a trend. It was
first introduced four years ago when Rev. Willie F. Wilson was president of our reunion. He announced
the Saturday gala and asked that our gala attire be white. I believe that the first one was
actually white and gold, but most members wore white. So fast forward to now and the trend continues
that the attire for many galas is still 'All White.'"
Saffore-Scuffore Family Reunion's Niko Cook, Zion, Illinois, says the All White Banquet is a sign of
tradition (sometimes religious), solidarity and family unity. There are times when it's used to make a
nice fashion statement, but family unity and solidarity are the primary reasons.
Celebrate these All White Reunion Galas! EW
---
Fairley-Foskey Family Reunion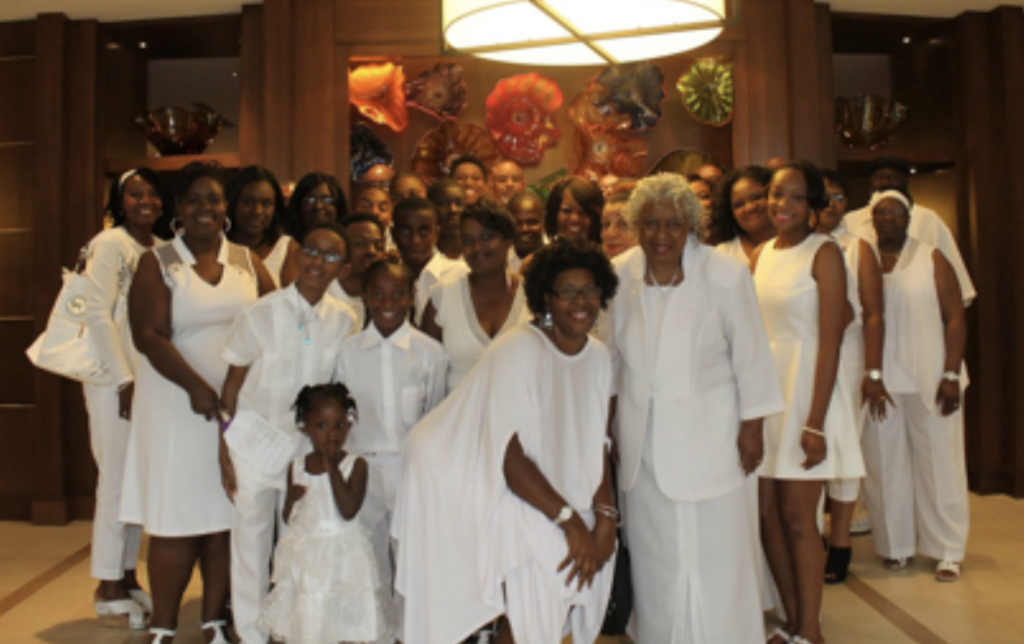 The Fairley-Foskey 6th Annual Reunion in Dunwoody, Georgia, held their All White Banquet
in the Hotel Pavilion at the Marriott Perimeter Center.
"We chose the theme 'I was there' because we were remembering the two siblings we lost earlier. On
Saturday we wore their last colors in memory of them. All the ladies wore purple and all the men wore
chocolate. We lit a candle in their memory. A praise dance was performed in their honor called 'Take me
to the King'; a very beautiful and talented young lady performed it gracefully." (Shared by
Sandra Lyon, Philadelphia, Mississippi.)
---
Rembert Family Reunion
The 42nd Rembert Family Reunion in Pigeon Forge, Tennessee, included an All White Banquet
where members dressed to impress in their white attire. Everyone enjoyed a delectable meal followed by a
fashion show. Young and old swaggered the runway with grace and style. Prizes were given to the
best-dressed male, female and couple, and to family members who were attending the reunion for the first
time. The grand prize, a 65-inch smart television, went to the winning raffle ticket holder. Later,
everyone enjoyed dancing and listening to the music. (Shared by Jerre Curry, Fairfield,
Alabama.)
---
---
---
Darden, Rooks and Johnson Family Reunion
Shared by Deanna Bledsoe, Chattanooga, Tennessee.
---
DeShazor/DeShazer/DeShazier/DeShazor (DDDD) Family Reunion
The Deshazor, Deshazer, Deshazier, Deshazior Family Reunion (DDDD) celebrated its 20th Bi-Annual reunion
in Louisville, Kentucky. "A jam packed weekend" included a Kentucky Derby Welcome Reception, Cousins
Night (board game and ice breakers), Heritage Meeting, All-White Awards Banquet, Family Church and a
Soul-Food Sunday Picnic. At the picnic, each "D" competes against the other for bragging rights with a
spirit stick given to the family with the most "Team Spirit." We look forward to hanging out with our
cousins for the weekend. (Reported by Glenda Deshazier-Nelson, Elizabethtown, Kentucky)
---
Pinkney-Mays Family Reunion, Atlanta, Georgia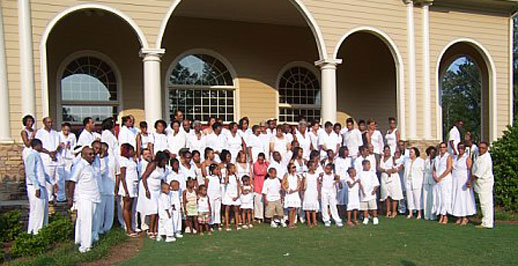 Lake Providence Senior High School, Class of 1985
Lake Providence,
Louisiana

Gillyard Johnson Mahoney Family Reunion, Shreveport, Louisiana