Show off your reunion in Reunions Picture Gallery!
email your picture with the name, date and location.
FREE listings!
Register your reunion: submit reunion name, date and place, contact name, address, phone number, e-mail and web address. Or,  E-mail the editor
---
A Listing of Upcoming Family Reunions
Air Force
Army
Coast Guard
Joint Services
Marines
Navy
Other
Seeking

Air Force
7th Infantry Regiment Association (Cottonbalers)
2017, Savannah GA
Dave Jensen, djensen@mtnviewhospital.com; 256-485-5692; www.cottonbalers.com
34th Bomb Sqd
Rod Breland; 5731 Hickory Ridge Blvd; Baton Rouge, LA 70817;
225-751-2058; rodbrel@msn.com; www.34thbms.com;
Reunion Info: www.mlrsinc.com/34thbombsqd
47 A&E RAF Sculthorpe England
Contact Jerry Michaud, 850-243-7570; JCMISSU563@aol.com
91st Strategic Reconnaissance Wing (McGuire (1948-49), Yokota (1950-54), Barksdale (1950-51), Lockbourne (1951-57)
Includes members of 91PRS, 91SRS, 322SRS, 323SRS, 324SRS, 91ARS, FMS, AEMS, RTS, PMS, Sup Sq, Med Gp, AP Sq, Com Sq, HQ, 16PRS, 31SRS, 6091SRS, 91st Bomb Wing (1963-1968), 91st Space/Missile Wing (1968-Active), 91IS (Fort Meade 1993-2005), 91NWS (Lackland 2007-Active), et al. Also invited are members of the 91st Bomb Group (WWII) and Lockbourne AFB Reunion Group. Jim Bard, 3424 Nottingham Road, Westminster MD, 21157, 410-549-1094; JimBardJr@comcast.net; www.91stsrwa.com
317th Troop Carrier Wing Veterans Reunion, (all eras), open to all veterans who served in or under the 317th
Jim Timmons, 758 221st St., Pasadena MD, 21122; 410-255-2735; www.usaf317thvet.org; jimt0708@aol.com

384th Air Refueling Squadron Reunion
Cheryl Schemanski, 384th ARS Secretary, cheryl.schemanski@us.af.mil; 316-759-4150
A-37 Dragonfly Reunion
The Association is for anyone who flew, worked on, worked with, was saved by, or just has a high admiration for the great little A-37 'Dragonfly' fighter. Vic Grahn, President, 850-835-4495, Jerry Sailors, Secretary, 34/279-1317 or email Ollie Maier, newsletter editor and contact person, at Omaier@TxState.edu at your earliest convenience. A letter on the history of the association plus the latest newsletter will be sent to you.

Air Force Public Affairs Alumni Association 23rd Annual Membership Meeting
For all retired and active military and civilian members of the public affairs, broadcasting, band, and multimedia fields.
John Terino, 703 239-2704; johnterino@afpaaa.org; www.afpaaa.org
Air Rescue Association
Al Gailey; 1591 Pine Lakes Ranch Drive, Cascade ID 83611, 208-382-6395; cagailey@yahoo.com; airrescueassn.org
C123s in South East Asia Reunion
For crews and support personal for the C123s in S.E. Asia
Ms. Sue Rice, 417-872-9750; ricepad13@gmail.com
Desert Storm 25th Reunion
Jill Etter; DesertStorm25th@gmail.com;
Facebook
MCAS Nam Phong, Thailand "The Rose Garden"
Richard Koehnen, 619-840-2335, richkoe@cox.net
Navigation Cadet Class, during 1952 and 1953 @ Ellington Air Force Base
May 2017, Albuquerque NM.
Charles Stearns, charles.stearns01@comcast.net
Pedro Rescue Helicopter (HH43)
Len Shults, 334-273-9804; lebompa@charter.net
RAF Welford Reunion
Tina Speer, cell 707-484-2813; home 707-823-5980; engspee1@att.net
Sampson AFB (3650th Military Training Wing, Geneva, NY)
All basic training students and permanent party
Walt Steesy, PO Box 299, Interlaken, NY 14847
607-532-4204; SamAFBvet@aol.com

USAF Radar Station Veterans Worldwide
Lowell Woodworth, lgwdwrth@roadrunner.com
USAF Veterans Cruise
Jill Etter; usafveteranscruise@gmail.com; www.usafveteranscruise.com
WaADS/33rd Air Division/20th Air Division/Fort Lee Air Force Station Reunion
Robert L. S. Dilworth, 804-861-1203; rdilworth@comcast.net
Army
1st Battalion 158th FA, Oklahoma Army National Guard's unit, stationed in Iraq as part of a Security Force (SECFOR) mission, between Dec 2005 & Dec 2006.
http://www.gofundme.com/158reunion

11th Airborne Division Association Reunion
Reunion details and registration form can be found at http://www.11airbornedivision.com/
11th Airborne Division Association Mid-Atlantic Chapter, and those former members of the 11th Air assault Division, and the 187th Airborne RCT for the annual Los Banos meeting.
Artie Heape 843-846-4693; artieheape@centurylink.net
or Herb Shapiro, 410-827-6410; hlshap@atlanticbb.net
24th Infantry Division Silver Anniversary of Desert Storm Reunion
Feb 2017
Latest updates and itinerary: www.facebook.com/24thIDreunion
Chaplain Darrell Williams at 423-312-4752

57th Assault Helicopter Company, 13th Biennial Reunion
2017, Las Vegas
Detailed Reunion information go to www.57thahc.com and click on Reunion Tab in upper right hand corner.
134th Assault Helicopter Company
Open to anyone that was in the 134th AHC or Detachments Companies regardless of rank. Family and their friends are also welcome.
Kirk & Marilyn Muth, 208-297-7730,
or Dick & Jo Sheehan, 208-891-4315;
http://www.134thahcid.weebly.com; http://www.134thahc.com
516th Engineer Company (Bridge) – Hanau, Germany
Anyone who ever served in this unit Welcome.
Gene Ogletree, 243 Overstreet Rd, Swainsboro GA, 30401; 478-237-7159; geneogletree@bellsouth.net
548 Light Maintenance Vietnam Reunion
Richard Metz, 419-905-8175; richardmetz1946@msn.com
Air Defense Artillery – Hawk Missileers
May 2017, Huntsville AL
Calvin Bridges, 427 Spruce St, Spartanburg SC 29303; 864-583-2842; woodhouse_1@charter.net
Big Red One Rangers and LRRPs (f52&i75)
The 1st Div Inf's Rangers and LRRPs
POC: Dave Hill at 775-315-5695 or email lurp268@yahoo.com
E Battery (AVN) 82nd Artillery 1st Cav.
Sep 17 -21, 2018, Chattanooga TN
Gordon Eatley, gordon.eatley@cox.net,
http://ebtry.myfreesites.net

K Company 159th Aviation Regiment 2nd Reunion
Jun 30-Jul 2, 2017, Hunter Army Airfield (HAAF), Savanna GA
Bridget D. Gatewood, 410-971-9642; kco159th@aol.com;
facebook.com/groups/934020946674497/;
Twitter:@kco159th;
www.eventbrite.com/e/kilo-company-159th-aviation-regiment-2nd-reunion-tickets-25349195125
Coast Guard
Joint Services
2017 Desert Storm Reunion
For anyone who was active duty during Desert Shield/Desert Storm
Feb 12-18, 2017, Caribbean cruise departing Ft Lauderdale.
Jill Etter, desertstorm25th@gmail.com; www.desertstormreunion.com

Marines
A Battery, 1st Battalion, 11th Marines Reunion (Vietnam Era)
Peter Van Ryzin, 540-347-3267; vanryzin1@hughes.net; http://a111reunion.com/
1st Battalion, 5th Marines 10th Anniversary of Ramadi reunion
Jul 25, South Lake Tahoe CA
Master Sergeant Mansfield, D.J., PO BOX 788305, Palms CA 92278; david.j.mansfield@usmc.mil; 760-830-8989

Desert Storm 25th Reunion
Facebook
Navy
44th Aviation Boatswain's Mates Association (ABMA) Professional Working Group
Doug Thornton, LCDR (Ret), thunderdjt@Gmail.com; www.abma-usn.org

Naval Nuclear Power Unit, PM-3A
Bob Fort, 505-835-5358; forrobert1@gmail.com
Naval Training Center Bainbridge
2018, Aberdeen MD
For all men and women that served or resided at NTC Bainbridge (Maryland) at any time between 1942 – 1976.
Arline Caliger, Pres., 423-326-3654, Kali8824z@Aol.Com; www.usntcb.org
Navy Postal Clerks Association (NPCA) Reunion, All former Navy Postal Clerks , from PCSA to PCCM (including reservists) members of the Logistics Specialist Rating who were former Postal Clerks are invited. 2018
For details and registration information see the NPCA website http://navypostalclerkassoc.org or contact Alan Hass, 717-226-1595; hassommno1@aol.com
USS Ajax AR-6
Thomas Judge, 830-745-2024; tjudge7673@sbcglobal.net; ussajaxassociation.org
USS Altair AKS-32
Dan Douglas, 203-966-1851; ddouglas@aol.com
USS Barry DD-933
Larry Loss, 281-530-1122; larrydd933@yahoo.com
USS Belknap Association
Skip McCarroll, 703-922-6519; jsmccarroll@cox.net
USS Bennington Association
Loren Weers, Secretary, 605-380-1130; weerscvs20@outlook.com
USS Bon Homme Richard (CV/CVA-31) Ship Company and Air Groups & USS Bon Homme Richard (LHD-6)
Frank Pulliam, 2849 E Pine St., Deming NM, 88030; 417-684-1358
USS Bradley (DE/FF-1041)
Sep 2017, New Orleans, LA
The association is eagerly searching for former crewmembers. If you served aboard the Bradley, please contact Bruce Gottsch, PO Box 1256, New City, NY 10956-4702.
845-634-3993; bgottsch@verizon.net; www.ussbradley.com; www.mlrsinc.com/bradley
USS Bremerton Reunion
Jerry Adams, 106 Ashley Dr. Winchester KY, 40391, 859-771-5651; jeradams106@gmail.com
USS Camp DER-251
Gail Sweeden, 865-482-7981; gsweeden@att.net
USS Corry DD/DDR 817
Sep 19-23, 2018, Bridge Point Hotel and Marina, New Bern, NC
Patrick McGoohan, 732-275-5851, Pmcgoohan@optimum.net
Facebook: USS Corry Reunion
USS/USCG Edisto AG89/AGB2/WAGB-284
ALL NAVY AND COAST GUARD ICEBREAKERS are invited
Glenn Smith, PO Box 747, Mimi FL, 32754; 321-269-5637; ussedisto@cfl.rr.com

USS Enoree AO
All shipmates, spouses and their family members are invited and welcomed to attend!
Pre-registration is required to receive the event room rate, and to participate in planned tours, etc.
Gaye Cline-Schooler, 336-751-2777
USS Enterprise CVA(N)65 50 Year Reunion
Looking for members that served with me on board the USS Enterprise CVA(N)65 between the years of 1964 thru 1967 in the communications division (radio men).
Bob Couture; 508-864-9273; cooch106@gmail.com
USS Eugene A Greene (DD/DDR-711) Reunion
Jack Plasterer, 855 Lovers Lane, Lebanon PA 17046
717-273-2763; llplasterer@comcast.net

USS Fletcher DD/DDE-445 & DD-992 Reunion
Earl Faubion, 405-833-7372; dd445@cox.net; http://ussfletcher.org/reunions/2014.html
USS Francis Hammond (DE/FF-1067)
Tim Williams, 191 W Log Bridge Rd, Coventry RI 02816; 401-397-8555; email; www.ussfrancishammond.com.
USS Gunason (DE-795)
Walter Hall, 363 Harris Ln, Freeman, VA, 23856.
804-848-4221, email

USS Hartley (DE-1029)
Marc Arsenault, 98 Oxbow Rd, Charlton, MA 01507; 508-248-5072;
marc-a@charter.net; www.newportdealeys.org; reunion web site www.mlrsinc.com/hartley

USS Harold J Ellison DD 864
Phillip Fuller, 400 School House Rd., Chesapeake VA, 23322,
757-482-2885; indians1pjf@cox.net
USS Henry B. Wilson (DDG-7) Assn
Apr 29-May 6, 2017, cruise from Honolulu HI
Penney Marks 520-396-3996; pemarks@ddg7.com
www.usshenrybwilsonddg7.com
USS Holder, DD/DDE 819 and DE 401, 37th Annual Reunion
James deBarrios, 120 Ross St, Santa Cruz CA, 95060-2636; 831-458-9062; ussholder_dde819@hotmail.com; www.ussholder.com

USS Hughes DD410 (WWII)
Markey DuBose, 281-924-1352 or Cindy Ferrin at cferrin@pacbell.net
USS Huse (DE-145) reunion:
Dave Perlstein, 7814 La Mirada Drive, Boca Raton FL, 33433; 561-368-7167 (res); 561-703-4772 (cell); usshuse@gmail.com
USS Inchon LPH/MCS-12 (10th Reunion)
David F. Fix, Reunion Planner,
131 Waypoint Drive, Lancaster PA 17603-5676;
717-203-4152; ussinchon@gmail.com; www.ussinchon.com
USS Ingraham (DD-694)
Jerry King, 1018 Calle Ortega, San Dimas CA, 91773, 909-394-5687;
Dd694@verizon.net; www.dd694.org
USS Iwo Jima (LPDH2/LHD7)
Robert G. McAnally, 757-723-0317, yujack@megalink.net
ussiwojimashipmates.cfs.net/
USS John S McCain, DL-3/DDG-36
Peter Peterson, 321-952-2066; peteusna@AOL.com
USS Jonas Ingram (DD-938)
Pete Ventola, 28 Circle Dr, Rockaway NJ 07866
973-627-7491; pete.ventola@att.net
USS Laws DD-558 Reunion
Gene Farmer, 3 Holly Ln, Paola, KS 66071
913-294-4244, digefarmer@cebridge.net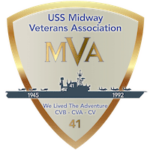 USS Midway Veterans Association (MVA)
www.ussmidway.net
For those who do not have internet access, please call Ron Pope / MVA Admin. 972-735-7850
USS Mills DE/DER- 383 Reunion
Ben Laurens, 252-504-3733, nriver@ec.rr.com
USS Moale DD 693
Jim O'Donnell, 1785 Harlow Ave., Pueblo, CO 81006
719-542-7622; sylviaodon@aol.com
USS Monticello (LSD 35) "All Hands" Reunion
Robert Behm, 3011 Dunn Road, Valley Springs CA, 95252; 209-772-0543
beamer@ussmonticello.com, http://www.ussmonticello.com
USS Neches AO-47
Johnny Hanlon, 918-760-7371; johnnyhanlon@cox.net www.ussnechesao47.com

USS NOA DD-343/DD-841
Bob & Karen Barrie, USS NOA, reunion Pres. Ship Historian
13757 Oak Forest Blvd. N., Seminole FL 33776
727-289-6534; kmleone@snet.net
USS Power DD 839 Association
John Pinto, 352-527-2352, jpinto839@gmail.com
Facebook: uss power dd 839
www.usspowerdd839.org
USS Rasher SS/SSR/AGSS-269
Richard Moore, 804-815-0730; drifterpilot@cox.net
USS Reeves DLG-24/CG-24
Michael D Robertson, 15709 N. Sycamore Street, Mead WA, 99021; Michael.d.Robertson@comcast.net

USS Rich (DD/DDE 820) 24th Annual Naval Reunion
May 1-5, 2017, Ligonier PA
Gary Wilson, 615-371-0130
www.ussrich.org
USS Richmond K. Turner DLG/CG-20
Eric Miller, 8753 Edelweiss Rd, New Tripoli, PA 18066
610-285-2358; teempa@aol.com; www.rkturner.com
USS Rupertus (DD-851)
Peter Spoonhower, rupertusdd851@aol.com
USS San Pablo (AVP/AGS-30)
Stuart Norris, 1463 Ayrault Road, Fairport, NY, 14450
585-223-2713; stuenormus@msn.com
USS Shreveport (LPD-12) Inaugural Reunion
Open to all Shipmates and Guests
David Fix, 717-203-4152, David.Fix@ReunionPlannersPlus.com
USS Sperry (AS-12)
Arnold Ross, Vice President, 2916 Colonial Dr, Dickinson TX 77539
281-534-2459; email Arnold
USS Surfbird (AM/MSF/ADG-383)
Don Gillispie, 3285 SW 176th Ave, Beaverton OR 97006;
503-649-4803; dongillispie@gmail.com
USS Swordfish SSN 579
Jerry Koebel, Charleston, SC, jakoebel@aol.com, 853-991-0773
George Hudson. Sheridan, OR, gdhudson@aol.com, 971-241-8858
USS Van Voorhis (DE-1028), Dealey-Class DEs
Marc Arsenault, 98 Oxbow Rd, Charlton, MA 01507; 508-248-5072
marc-a@charter.net; www.newportdealeys.org; reunion web site www.mlrsinc.com/vanvoorhis
USS Walter B. Cobb (APD-106)
James G. Plough, 2307 Country Club Rd, Melbourne FL 32901-5808.
321-728-3053.
USS Wexford County (LST-1168)
Larry Condra, 314-994-1187; wexford.county.reunion@aol.com; www.mlrsinc.com/wexford
USS Wilkinson, DL-5
John Lair, 619-479-7387; hobocamp@aol.com
USS Willis A Lee, DL-4
Frank Graham, 718-934-6410; frankdl4@optonline.net
USS Yancey AKA-93
George Clifton, 9620 Mansfield Ave, Oak Lawn IL 60453
708-425-8531; clifs@ameritech.net; http://ussyancey.com/
VP8 (Patrol Squadron Eight) Alumni Association Reunion
Contact Assn. President Dick Scotti at navy9crew@sbcglobal.net
or Carolyn Magee, newsletter editor, cpm38@bellsouth.net; 601-731-7600
Annual YAGR'S ASSOCIATION Reunion
Lee Doyel, yagrs16@cox.net; www.yagrs.org/home.htm
Other
The "Berlin Brats," the Alumni Association for all military/& other dependents who attended Berlin American High School in Berlin, Germany from 1946 to 1994 will participate in the "25th Anniversary of the Fall of the Berlin Wall."
Jeri (Polansky) Glass, BerlinBrats@gmail.com; www.BerlinBrats.org
Izmir, Turkey Former Residents, 1950-75
Karl-Michael "Hollywood" &/or Lynell Sala, 765 Montclair Dr, Santa Rosa CA 95409-2865; 707-539-7546; 707-291-0059; http://groups.msn.com/IzmirTurkeyResidents195075
Kansas Veterans and Family Reunion, 28th annual
http://www.facebook.com/kansasveterans.familyreunion
http://kvfr.us
Seeking
1/7 cav 1st cav Division 'Desert Storm Veterans.'
Date to be announced, Branson West MO Tom Gdovin, 417-338-2141; email
Graduating 3rd Battalion Platoon 3327 Paris Island Mid 1970's.
Just searching for anyone who was in that platoon. DI's were SSgt Dunton, Sgt Lamantia, Sgt Frush, SSgt Rivera. Contact: Gino Raymond, Bogiesonyour6@aol.com.
3D Target Acquistion Btn, 25th Artillery-B-BTRY. 1964-65
Ft. Chaffee AR, Ft. Sill OK. Charles J. Bukovec, 10079 Quarry Rd, Amherst OH 44001-2943, 440-986-8687.
7th Div., 31st Field Art. B. Battery No 3 Gun, 1950-51.
Leroy L. Shook, 3818 Briery Rd. Keysville VA 23947; 804-736-9088.
10th Div Support Groups.
Ray Martineau, 387 Boynton St, Bedford NH 03110; 603-622-6243; email
52D Fighter Wing (air force), Mitchell Field NY, McGuire AFB NJ or Suffolk AFB NY for a possible reunion. Lew Crispell, email
7th/15 Arty.(1964 –1966). Allen Ward, email
86th Airlift Wing
Public Affairs office is in search of stories, photos and comments about memorable experiences from former military/family members, Host Nation employees, DoD civilians and NATO employees who have were assigned to RAB between 1952 and 2001. or mail your information to 86th AW/PA, Unit 3200, Box 330 APO AE 09094 or call (49) 06371-47-9197; email
105th Airlift Wing.
The Association is attempting to locate former members of the New York Air National Guard's 105th Airlift Wing and its predecessor units (including the 105th Fighter Group, 105th Airlift Group, 105th Tactical Air Support Group, 137th Fighter Squadron, 137th Airlift Squadron). Chief Master Sergeant Richard F. Saddlemire, USAF, Retired, or Col. John E. Perez, USAF, Retired, One Militia Way, Newburgh NY 12550-4053.
665th Ordinance Ammunition Company, redesignated as 665th Ordinance Aviation Company, redesignated as 665th Aviation Fighter Company. Looking for any information relating to the above United States Army military units. Robert D Peterson, 1215 Moss Ln, River Ridge LA 70123-2743; email
AF Cadets Class April 1944 (44D) and former P-38 P-39 P-40 Pilots Sam Felser, 806 Rigel Lane, Foster City CA 94404; 650-573-9261; email
306th Airdrome Squadron, 64th Service Group, 5th Army Air Corps, WWII, South Pacific Theatre where are you? I am looking for members who served with my dad, Carl Westbrook, on Noemfoor Island, New Guinea, in 1944. Family members of these veterans also welcome to respond. I am looking for information about a picture that I have of my dad holding a rifle in a jungle setting with other men in the background and any other info about the Squadron. Please contact me via email Norm Westbrook.
B29A Tail # 44-86343 'Wolf Pack'
Looking for anyone that may have info on B29A Tail # 44-86343 'Wolf Pack' or knew any of the crew members (there were 2 B-29s with that name) this one was shot down 13 Sep 52, over Suiho Hydro Plant. 307th Bmb Wing/371st Bomb Sq-One survivor, A1C Fred Parker Jr., POW, released in Big Switch. In 1954 crew status changed from MIA to KIA. One of the crew members, Jimmie Rowland Hobday, AF#17329984, tail gunner, was my father. If you remember anything about this incident or have any referrals or info. Please contact Dane Hays at 928-284-2708 or email
B-29 Flight Crew & names. Click on images for a larger view.
Headquarters Company, US Army Garrison Toul Post (1960-1962). David R. Davies, 1205 Dunn St #4, Portage WI 53901; 608-742-4682.
NSD3149 AND SRB3864. Phillipines. email
USS Kirkpatrick DER-318. Seeking former crew members of this North Atlantic Radar Picket ship for 1st reunion. George Kingston, 1611 Woodbridge Circle East, Foley AL 36535-2267, 334-943-7823.
Looking for shipmates of the USS Neshoba APA-216 for newsletter and reunion. Ray Allen, 10705 N Fairview Rd, Spokane WA 99207.
NTS 1936 Graduating Class. Seeking Graduates. Jackie Riley, 6081 Chad Dr, Newcastle CA 95658, 916-663-2933, email
Looking for Marines who served at the Marine Barracks in Rota, Spain from 1963-1966. Remember the good old days in Spain? Remember the Mickey Mouse Express? Remember our liberty calls to Santa Maria, Jerez de la Frontera, Cadiz and Sevilla? Remember the beautiful señoritas of Andalusia? Remember the Bull Fights? Remember our favorite Rota hangouts? Remember when Chesty Puller visited the Marine Barracks? Remember the trip to France to celebrate the 20th anniversary of the Normandy Landing? Remember the trip to Guadalcanal, Spain? Remember the yearly Marine Corps Ball? Remember the great Guard Duty days? Remember the Few Good Men of the 1st and 2nd Platoons? Join us for our 1st Rota Marines Reunion to be held Sep 26-30, in San Diego, California! For complete details contact Mike Foley; email or Jack Malone; 858 735-8540; email
USN Boat Pooll 11.
I am seeking former shipmates who served on the island of Bougainville, 1943-44, USN Boat Pooll 11, Advance Base 7. Clyde R Meyers, Jr, 337 Janmar St, Denham Springs LA 70726; 225-664-4786; clydemeyers@yahoo.com.
USS Louisville CA-28, 1943-1947
Seeking crew members for reunion.
Jack Bland C/O S. Friies, 559-271-8506; ronfname-sales@yahoo.com.
VP-45 Association seeking ex-PELICANS.
C. B. Caldwell, 1061 Arnold Way, Alpine CA 91901-2721; email
---
Reunion Friendly Network
Military Reunion Planners Conference (Con-FAMs)
Regioinal Rountables, Educational Summits
Contact Sharon Danitschek, 425-501-1430     sharon@reunionfriendly.com
www.reunionfriendly.com
April 30 – May 4, 2017
West Coast Regional Rountable
Seattle, WA
June 25 – 27, 2017
Educational Summit
Louisville KY
October 10 – 14, 2017
Central States Regional Roundtable
Rapid City, SD
October 22 – 26, 2017
NE Regional Roundtable/ ConFAM
Portland ME
Military Reunion Planner Workshops

Your Military Reunion Connection, otherwise known as 'YMRC', is a networking and support organization of military reunion groups and the organizations that serve them.
YMRC seminars and FAM tours are offered nationwide. Our services encompass education, information, and networking. Whether you are a new or seasoned planner, YMRC is your resource for planning your next military reunion. We will put you in contact with key people at whichever destination you are considering for your next reunion and provide scheduled face-to-face appointments with exhibitors in a marketplace format.
| | |
| --- | --- |
| Apr 2 – 5, 2017 | San Antonio, TX |
| Jun 25 – 28, 2017 | Waterloo, IA |
| Jul 23 – 26, 2017 | Warwick, RI |
| Aug 17- 19, 2017 | Herndon, VA |
| Nov 6 – 9, 2017 | Savannah, GA |
For more information and to register go to www.yourmilitaryreunions.com
Questions? Email us at ymrcusa@gmail.com or call 417-593-4234
The Alliance of Military Reunions is a new, cooperative networking and support organization of, by and for military and naval reunion groups. Learn more at http://www.allmilitaryreunions.org.
Other places to post upcoming military reunions
American Legion Magazine – http://www.legion.org/reunions
AMVETS – http://www.amvets.org/reunion-notices/
Military.com – http://www.military.com/Resources/ReunionList/1,11127,NONE-0,00.html
The Retired Enlisted Association – http://www.trea.org/

TIN CAN SAILORS ASSN – http://www.destroyers.org/reunions/reunions.htm

Veterans of Foreign Wars Magazine (VFW) – http://www.vfw.org/magazine/51.html