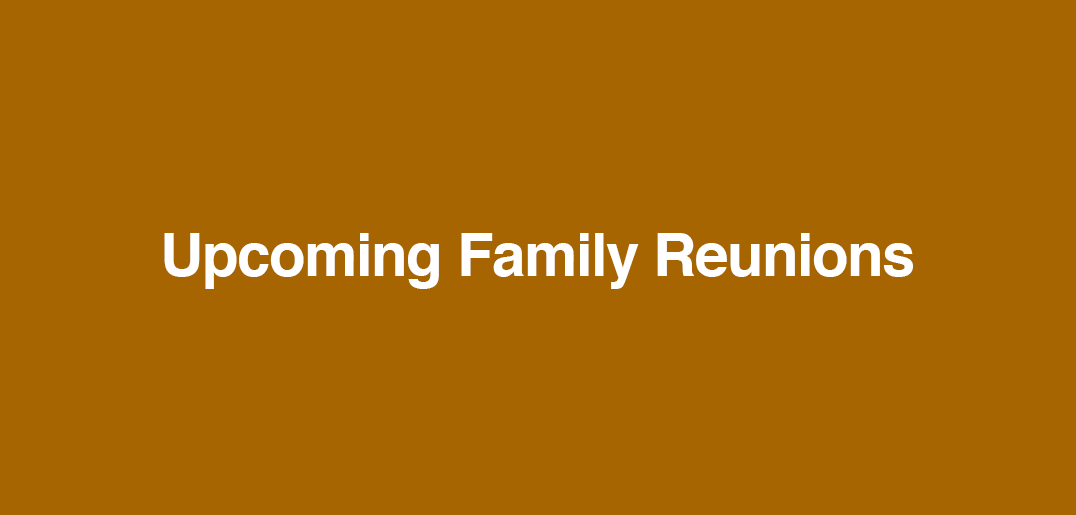 Upcoming Family Reunions
Show off your reunion in Reunions Picture Gallery!
email your picture with the name, date and location of your reunions.
FREE listings!
Register your reunion: submit reunion name, date and place, contact name, address, phone number, e-mail and web address. E-mail the editor to register or send to Reunions magazine, PO Box 11727, Milwaukee WI 53211-0727; fax 414-263-6331.
---
A Listing of Upcoming Family Reunions
3 Sisters Family Reunionwhi
Alexia Williams, 3Sistersfamreunion@gmail.com
7 Lines Strong Family Association Reunion:
Chandler, Collins, Coston, Johnson, Savage, Upshur & Walker
Lois – LOisAS2003@aol.com
Allen Family Reunion
Dennis Lewis, PO Box 360426, Strongsville OH  44136
440-572.3472, allen@condohome.net, https://allenfamreunion.wordpress.com/, http://allen.condohome.net
Ashley Family Reunion
Shirelle Peterson, esp2827@gmail.com, ashley2016.myevent.com
Baker Family Reunion, descendants of Gladys Louise and Ralph W. Baker Sr.
1st family reunion in their original hometown of Pensacola, Florida.
Jul 27- 30, 2017, Pensacola, FL
Shanetta Thornton, sthornton172@gmail.com
Banks Family Reunion
https://www.facebook.com/banksfamilyreunion2015
Barnes Family Reunion
Sara Jurgens, Sarajhankins@gmail.com
Baskerville-Whitthorne Family Reunion
bwcunited@yahoo.com, http://groups.yahoo.com/neo/groups/bwcunited/info
Baxter Family Reunion
Pearl Baxter, 38 Dant Street, Sumter SC 29150
803-773-8627; 2016baxterfr@gmail.com
https://sites.google.com/site/baxterfamilytimes/home
Benrud Family Reunion, Descendants of Peder and Anne Soffie
Iris Orthrow, irisothrow@aol.com, www.benrudfamily.org \
Bernard Family Reunion
Linette Fielding Roach, 713-823-8185; linette.roach@sbcglobal.net
Bird Family Reunion
Jun 30, 2018, Williamsville Island Park, Williamsville, NY
Pat Siracuse, patsir505@gmail.com
Bishop Family Reunion, descendants of Thomas and Mary Alice Bishop
Charlene Miller, 2320 32nd Ave North, Birmingham, AL 35207
205-908-6410; charlene.miller07@gmail.com
Bluiett-Griffin-Williams Family Reunion
G'Ahynne Hawkins, PO Box 4851, Chicago, IL 60680
312-221-5997; gahynne@gmail.com; www.bluiettgriffinwilliams.org/
Bowen Family Reunion
Jul 13- 16, 2017, Washington, DC
Host Vernon P. Bowen, 240-605-0509; VePBowen@aol.com
Broadnax Family Reunion
Jun 23- 25, 2017, Decatur, GA
Vicky White, victoriouswhite@hotmail.com
Brown Family Reunion
Welcoming all descendants of Wash (Washington) & Malissa Brown
Roxie Branch; rabranch@carolina.rr.com; www.thebrownfamilytiesreunion.tk
Brown, Bennett, Gantts, Boykin, Chisholm Family Reunion
David Brown, jville_giifted@yahoo.com
Brown/Randolph Family Reunion
Fran Dale, 4695 Riveredge Cove, Snellville 30039; 818-455-6290
Brundage/B Family Reunion
Jul 28- 29  2017, New York City, NY
Anna Brundage, 703 Vandalia Ave, Brooklyn, NY 11239
347-356-5463; acb_anna@yahoo.com
Bryant's Family Reunion
Elaine Rogers, 904-446-0432, elaine0727.er@gmail.com
Bugg Family Reunion
Welcoming all descendants of Frank Bugg & Louisa Yeldell of South Carolina
Rodney Carson; rodamster@aol.com
Brundage/B Family Reunion
Jul 28-29, 2017, New York City NY
Anna Brundage, 347-356-5463; acb_anna@yahoo.com
Butler-Williams Family Reunion
Shasheen McCarthy-Gordon; Shasheenm@hotmail.com
Cargill, Caldwell, Harris & Williams Family Reunion, 25th
Descendants of Matt and Millie Cargill and Lee & Louisa Caldwell
Lydia Williams, lwilliams5.cjw@gmail.com
website:  It's All About Love!
Carter Family Reunion
Equoya Harper-Cotton,1191 Summer Way, Pittsburg CA 94565; 925-261-1123, eharpercotton@comcast.net
Case/Harvey/Tillett – Gallop/Overton/Dixon
Our Big Happy Family Reunion
Sep 2017, Outer Banks, NC
Contact: Josephnphyl@gmail.com
Cohen Ballenger Lindsey Family Reunion
Tasha Lindsey, 215-954-2462, tashamarielindsey@gmail.com
Collier Family Reunion
Descendants of Ludia Collier-Sampson & Albert Collier
ShanHall @ Collierfamilynews@gmail.com
Colston Billups Family Reunion
Twanna Nelms, 12-865-7329, Twazay@gmail.com
Cox Family Reunion, 40th annual
Arica Ellis, 615-306-3387, acdjs@comcast.net
Craft Family Reunion, for relatives of the Lewis J. Craft and Mamie E. (Anderson) Craft, Anderson, Pevehouse and Adrian families.
Ellen Craft-Phillips, emplap@gmail.com, www.facebook.com/lewiscraftreunion/
Daniel Webster Smith Family Reunion
Teresa Ortega, 910-330-5057; DanielWebsterSmithDescendants@gmail.com
Dean and Creech Family Reunion, 40th Annual
Lloyd Dean, 6770 U.S. 60 East Morehead KY 40351; 606-784-9145
Dean-Moore Family Reunion
Norma K. Dean, 8535 Ward St, Detroit, MI 48228; normakdean@aol.com
Dedeke, Johann Heinrich
I would Like To Start The Johann Heinrich Dedeke Family Reunion.
Please Contact Us at anjanmsreunions-at-yahoo.com
Denison Day – Denison Society Family Reunion
Julie Soto, PO Box 42, Mystic, CT  06355
860-536-9248, julie@denisonhomestead.org, www.denisonhomestead.org
Dewitt/Chestnut Family Reunion
iris Mack, 804-248-4794; yourdcreunion@gmail.com
Eans- Jackson-Samuel Family Reunion ( Descendants of George and Georgianna Holliman)
May 27-29, 2017, Atlanta GA
Shonda Scott, Eansjacksonsamuelfamilyreunion@yahoo.com
Easley Family Reunion
Tiffany Barrett, 2006 Ruffin Road, Richmond VA, 804-393-4838; http://www.easleyfamilyreunion.com/
E.Cooper Family Reunion
Contact Saunia Cooper, 252-571-2200; Kaysakidemy@yahoo.com or Quoteshia Hargett  757-667-8618
Evans Family Reunion
Lether Evans, 619-894-0451; nilequeen01@hotmail.com; Facebook.com/EvansFamilyReunion
Evans Family Reunion
A. Marie Smith, 910-261-4208; gdaytravel@yahoo.com
Fairley-Foskey Family Reunion
Sandra Lyon-chairman; Fairleyfoskeyfamilyreunion@yahoo.com;
www.facebook.com/fairley.foskey
Fenderson Huff Family Reunion
Aug 11- 13, 2017, Decatur, IL
Shaquetta Booker, edrion01@gmail.com
Fleming,Gamble, Goodman and Laws 39th Family Reunion
LaChain Glenn, 240-274-8008; mrsglennchain1@verizon.net
Fulford Family Reunion, Descendants of Reverend Willam & Esther Fulford
Erika Sherman, ESherman@SandySpringsga.gov
Fuller Family Reunion
Jun 23-24, 2017, Batesville, AR area
Terry Davis, 3320 Dallas St, Fort Smith, AR 72903
479-459-8697; tdd0819@cox.net
Gaines Family Reunion
Cynthia Hibler, 5237 Walnut Court, Lithonia GA 30038; taylor_hibler@yahoo.com
Gallup Family Association Annual Reunion
Julie Soto, PO Box 102, Voluntown CT  06384
gallupfamilymembership@gmail.com, www.gallupfamilyassociation.com
Gillyard Johnson Mahoney Family Reunion
Bettie Gillyard Griggs, 310-926-4979, bettiegillyard@aol.com,
www.gillyard-johnson-mahoney.com, Facebook: Gillyard Johnson Mahoney Family Reunion
Garrard-Register Family Reunion
Hank Garrard, 3866 Strathonburn Ct, White Plains MD 20695; 301-645-1574, ezhank62@gmail.com
Gary Family Reunion
May 26-28, 2017, Little Rock AR
Angela Gary Miller, 502-240-8895; ms_amiller@yahoo.com
Gathers/Hannah Family Reunion
Annette Webb, Tonia Gathers, or Jarodd Webb; gathershannah@gmail.com
Gibbs & Rowe Family Reunion
Vivian Dunbar, vdjoh@yahoo.com
Griffin Family Reunion
Jaleesa Collins, CLB 15, 15th MEU, 1st MLG,
PO Box 555717, Camp Pendleton, CA  92055-5717
310-962-5988; thegriffinsfamilyreunion@gmail.com; www.thegriffinsfamilyreunion.com
Grima Family Reunion
Anne Mason, krmsotherhalf68@yahoo.com
Gottung (Gruny-Vetter-Eck) Reunion
Jul 29- 31, 2017, Des Moines IA
Sandy Smith, 3604 Aspen Dr., West Des Moines, IA  50265
515-491-6112
Guindon-Yandeau Family Reunion
http://www.guindon.myevent.com/
Guy Family Reunion
Jul 5- 9, 2017, Olive Branch MS
Contact Pamela Guy-Strayhorn, 901-210-8393; pamelastrayhorn@aol.com OR
Darin K Leake, Sr, 901-283-1177; dkeyl@aol.com; www.guyfamilyreunion.com
Hamilton Hill Taylor Family Reunion
LaTanya Joseph, 863-812-7245, 2016.Orlando.Reunion@gmail.com
Harrell- Currington Family Reunion
Roslin V. Spigner, 718 290-4725, Roslin.Spigner@gmail.com
Harrison Descendants Family Reunion
(formerly know as Akins-Harrison Descendants Family Reunion)
July 14- 17, 2017, Mt. Dora, FL
Carrence Bass, 4146 Woodley Creek Rd, Jacksonville, FL  32218
904-622-8217; harrisondescendants@gmail.com
https://www.facebook.com/groups/harrisondescendants/
Hareday/Bevans/Bevan/Smith Family Gathering
Catherine Lindsay, 101 West Leighton, Frontenac KS 66763; 620-704-7123
Harris Family Reunion, 77th reunion
Descendants of Theodosia Richardson Harris and Harry Andrew Harris, Jeremiah and Violetta Strickland Norris
Jacqueline Harris Cunningham, Jckiddo2@aol.com
Harrison Family Centennial Reunion
Barbara Wellons, President, PO Box 798, Langhorne, PA
215 891-9987; harrisonfamily100@verizon.net
http://www.harrisonfamily-pa.com
Harton Unity Celebration
Contact Angela Jinks 216-570-9814
Halvorson Family, 57th Annual reunion
Friday- annual 'meet & greet', Sunday – annual meeting and pictures.
Frank Evenson, 435-256-6048, fmce@copper.net
Heyard-Poinsette-Holmes Family Reunion
Narvie Stewart, 5549 Hwy 17, Murrells Inlet, SC 29576
843-651-9494, narthom@aol.com
High Family Reunion, descendants of Jennie and Ross, 52nd Annual
Aug 4-6, 2017, Baltimore MD
Joyce Nicholson, jeaton48@gmail.com
Hightower Little Bush 50th Family Reunion
Jovan Miles, toppergem@gmail.com
Thomas Holmes & Surnames Family Reunion
Contact Keri, sitkasky@msn.com
Facebook: ThomasHolmesFamilyReunion
Blog: http://holmesreunionblog.wordpress.com
Holt Family Reunion
Sunday:  Genealogy Presentation with Martha Anne Holt as our general speaker
Brenda Holt,  817-899-3371; bren.holt@rocketmail.com
Horne Halsell Holsey Family Reunion
Welcome all descendants of Ransom Horne, John Halsell, George Holsey, Lucille Holsey, Eddie Holsey, Judge Roe & Hannah Pitts.
Jul 20-23, 2017, Orlando FL
Jonnie Ramsey Brown, 678 570-7239; jbrown244@gmail.com; https://www.facebook.com/groups/HHHFamily ,
myhhhfamily.com
Horton Thomas and White Family Reunion
Ellen McClendon, 3894 Hitchcock Rd, Macon GA 31217; 478-361-5309
Insall Family Reunion
Jennifer Ridgway Denton; 210-291-1195; www.insallreunion2015.classquest.com
Jarmon Family Reunion
Jun 30- Jul 3, 2017, Atlanta GA
Jana Rayford, 2017 Reunion Coordinator, jarmonreunion2017@yahoo.com
Jenkins, Stephen Senior Family Reunion
Florence Whitfield, 917-838-8693, Gaga200200@aol.com
Jernigan Family Reunion, Descendants of Calvin Jernigan
Jul 27- 30, 2017, Shreveport LA
Beverly Paige, Jerniganfamilyreunion@gmail.com
Johnson Family Reunion
Melody McNeer, 173 Ridgewood Dr., Daphne AL 36526; Melodymcneed@hotmail.com
Johnson Moody Crenshaw 15th Family Reunion
Sonya Good, slcass2@aol.com; 800-717-4041
Jones/Mitchell/Brock/Jackson/Broadnax/Cobb/Ford/Lovett/McDaniel Descendants
Jul 1- 8, 2017, Arkansas Tour (Little Rock, El Dorado & Special Treat Tour of Union Parish LA)
Rochelle Jones Price, PO Box 4921, Oakland CA 94605; 510-827-9803; buildingfamily4ever@gmail.com; facebook.com/groups/buildingfamily4ever/events
Jordan Family Reunion
Descendants of Jordan and Shields who lived in Jackson County, Jefferson, Georgia in the 1800s
Janice Edwards, 404-323-8939; edwards3251086@aol.com
Kearney – Moore Family Reunion
Chairman Clienton Bryant (757)236-0170; cbryant@ivybaptistchurch.org,
Asst. Chairman Robin Lee (757) 719-3237, Treasurer  Nadine Bryant (757) 218-6565
Kennedy Walker Reunion
Bonita Lawrence McClure, bonitallm@yahoo.com, 6724 Walnut Cove Drive, Raleigh, NC 27603
Kinsler Family Reunion
Jul 28- 30, 2017, Columbia, SC
Brenda Kinsler, PO Box 3257, Washington, DC  20010
202-407-3290; kinsdc@aol.com; www.kinslergroup.com/reunion
Knotts Family Reunion
Martha Knotts; mmknotts@aol.com

Real and Professional Santa Claus, Mrs. Claus and Holiday Entertainers
Mar 17- 20, 2017, Gatlinburg TN
Includes The Parade of Red Suits, SNO-lympics™",
International Santa Claus Hall  of Fame induction ceremonies.
Tim Connaghan, Discover Santa 2016, www.discoversanta2016.com
Leali Family Reunion
Sheryl Tufts, 954-336-5262; sptuft@aol.com or LeSondra Barnett-Hollowell, 816-726-3323; rjjrs1girl@gmail.com or James Harris, 303-322-1432; harrisjjr@gmail.com.
Registration Packet
Leno Smith Family Reunionss
Lenosmithreunion@aol.com
https://www.facebook.com/leno.smithreunion
Lewis Family Reunion,  Descendants of John and Helen Umlah-Lewis
https://www.facebook.com/groups/LewisFamilyReunionCirca1965/
Lindsey Kendall Family Reunion
Sandra Antoine, President, sandyant35@gmail.com, lindseykendall2014@yahoo.com
www.lindseykendall2014.myevent.com
Lipscomb Family Reunion
Descendants of James F. Lipscomb who is one of the African American legislators who will be commemorated by the African American Virginia Legislators' Descendants Celebration.
Lee Lipscomb, leelipscomb@gmail.com; 202-810-4237
Lyons Family Reunion
Karen Crum, 1044 Mahogany Ln, Rowesville SC 29133
Macon Family Reunion
Cheryl Macon, jacksonmissc@yahoo.com
Malcom Family Reunion
LaMonica Smith, 678-249-9662, malcomfamily72@gmail.com
Manning Family Reunion, Descendants of Benjamin Manning
Jul 13- 16, 2017, Orlando FL
manningfamilyhistory.wixsite.com/manningfamilyhistory
@benmanningfam
Manuel-Webb Family Reunion
Charlene Harmon, 1476 Locust St., Memphis TN 38108
9018594270@sms.myboostmobile.com
McCrea family Reunion
Chianti White, mccreafamily@yahoo.com
McClary McCleary Family Reunion,
Descendants of Charles, Lucille, and Harriett McClary of Kingstree, SC
Jul 21-23, 2017, Washington, DC
Facebook:  2017 McClary/McCleary Reunion
cahnesmith@gmail.com
McCuistion/McQuiston (and all other spellings) Family-Clan Uisdean, USA Annual Gathering and Meeting.
Jul 12-15, 2017, Springdale, AR
Contact: Gloria McCuistion, gmccuistion@live.com; 757-619-8246 or David McCuistion, Davidmcc44@outlook.com; 423-402-1643
Mc Dougald Sutton Family Reunion
Mattie Lewis 252-315-7682 or Neicole Gear 252-373-6328
McFadden-Whaley Family Reunion
Ethel McFadden, PO Box 236, Syracuse, NY 13201-0236
315-877-7807; flightgospel@hotmail.com
McKitty Family Reunion
Grace McKitty, chanan2me@hotmail.com; 301-379-0077
McCrea Family Reunion
Chianti White, mccreafamily@yahoo.com
McGill 35th Family Reunion
Shelly Blackston, President, srblackston@gmail.com
Vickie Williams-Joppy, Secretary, Victoria_J_Williams@mcpsmd.org
McGill/McPherson Family Fest: Family Food Fun 
Miss T. Denton, mcphersonfamilyfest@gmail.com
Meeting of the Miles & Farrow Families: The Second Reunion
Marguerite Miles Harrington, mjharrington@comcast.net
www.meetingofthemiles.myevent.com
Miller Family Reunion, Descendants of Hobert and Leah Catherine Miller and extended family.
Lisa Cook, 276-889-2318 or 276-254-9098; cooklisa6@aol.com
Mitchell Family Reunion, Descendants of Sam & Susie Gray Mitchell
Christine Walls, PO Box 80073, Washington, DC 20018, (443)863-9694, Mitchellfrc@gmail.com, www.mitchellreunion2016.com
Moore Family Reunion
Jun 24, 2017, Kenner LA
Hostess: Debra Patterson. JESSE James.. Pattersondebra1@gmail.com
Moore Family Reunion
Jul 14-16, 2017, Atlanta, GA
Terri Fagan Mitchell, PO Box 465295, Lawrenceville GA; 770-682-4650; tfmitch@aol.com
Morton/McKay Family Reunion
Our theme is FAITH-HOPE-AND LOVE.
Jun 29- Jul 1, 2017,  Kissimmee FL
Twila McKay Smith, 3769 Eversholt Street, Clermont FL 34711.  352-988-2677
pseudods@hotmail.com
Murphy Family Reunion
Descendants of family names: McQuade, Corrigan, Lanagan, O'Donnell.
2018, Clearwater, FL
Denise Murphy, ddmurphy25@yahoo.com
Neal Family Reunion
http://www.nealfamilyreunion.com/Neal_Family_Reunion/Welcome.html
Neal-Fox Family Reunion
REUNION STORE: REUNION REGISTRATION & APPAREL
REUNION SOCIAL MEDIA SITES
FACEBOOK     FB EVENT     BLOGGER   YOUTUBE
Nelson/Custard Family Reunion
Barb Hensley, 4701 Irvine Ave NW, Bemidji, MN  56601; computer_fun@yahoo.com
Nettles Family Reunion, Descendants of Matt and Rena
Jun 23- 25, 2017, Montgomery AL
Phaedra Miree, phaedramiree@aol.com
Nichols-Washington Family Reunion
2017, New Orleans LA
Zachary Landry, Zacharylandry573@yahoo.com
http://www.facebook.com/nichols.w.reunion
Outlaw/Outler Family Reunion
Cynthia Outlaw, Family Historian & Organizer, PO Box 744, Bala Cynwyd PA 19004; clo331@aol.com, 215-803-4088
Owens Family Reunion
Loretta Lewis, llewis6957@yahoo.com
Palatines in NJ, 100th Family Reunion
DNA Cousins and Palatine Community Neighbors are invited
Sep 8- 10, 2017
RSVP: Comments or questions 908-766-0907, 732-297-6686
Parks-Reese-Pittman Family Reunion
Descendants of  George & Melissa Parks, Moses & Harriet Marine and Charlie & Roseanna Pittman.
Family Luau on Friday and Banquet on Saturday.
Contact Kathy @ kpw1god@yahoo.com
Patterson-Webb Family Reunion
Brenda Qadir, brendaqadir@gmail.com
Payne Family Reunion, 60th Anniversary
We welcome all descendants of Zelophia Payne (sons Ben and Peter Payne)
Kim Bickham, thepaynefamilytree@yahoo.com
Peters 43rd Family Reunion
Oliver Peters Jr., ohlcpeters@gmail.com
Petway Family Reunion
Hosts: Bill Petway, Shemeka Petway, Krystle Jackson and Dawn Petway, 770-364-3769;dpetway50@gmail.com
Facebook: petway
Pittman Family Reunion
Jul 14-17, 2017, Earth City, MO (near to St. Louis airport)
Hotel POC: 314-475-3808, Code PFR
POC Reunion: Darrece Douglas, 314-691-6864; Facebook: Pittman Family Reunion Macon MS
Portis Campbell Crawford Latham and Powe Family Reunion (27th annual)
June 23- 25, 2017 Pensacola FL
Find our Family on Facebook!
Powell Moody Family Reunion
Powell, Moody, and Moore Families of Halifax and Nash counties, North Carolina and Brunswick, Greensville and Mecklenberg counties in Virginia.
AtlantaPowellMoodyReunion@gmail.com
Price Family Reunion
Ashley McMillan, 1301 Cornwall Rd, Decatur GA 30032
Rainey Family Reunion
Jacqueline L. Rainey, 404-853-6844
Randles Cousins Reunion
Rose Plyer-Kerr, rosekerr51@yahoo.com
Reed-Isaac Family Reunion
Contact Geraldine Bell, gera-jo@hotmail.com
Relativity Family Reunion
Contact Information Form https://www.surveymonkey.com/r/JQ7Z2JF
Riley Family Reunion
Sep 1- 3, 2017, Williamsburg VA
Jacqueline Gardenhire, 14069 Breeders Cup Drive, Gainesville VA 20155
703-743-1979; jacquelinegardenhire@yahoo.com
Rogers Family Reunion
Jun 30 – Jul 3, 2017, Albuquerque, NM
Jacqueline Miller, rogersreunion17@gmail.com
Rogers Family Reunion
James Otis Rogers; rogersjameso@yahoo.com
Saffore/ Scyffore Family Reunion
Jun 23-25, 2017, Little Rock AR
Jun 22-25, 2018, Family Reunion Vacation, 40th Year Annual Celebration
Niko M. Cook, 918-809-8774; info@safforescyfforefamilyreunion.com; www.safforescyfforefamilyreunion.com
Follow family reunion updates, activities and events on Facebook and Twitter.
SAMM (Smith, Anderson, Martin, Mitchell) Family Reunion)
Nate Alston, 336-340-3195; media@sammfamilylegacy.com; www.SammFamilyLegacy.com
Schmidt Family Reunion
Josiah Schmit, josiahschmidt@gmail.com
Scott-Houser Family Reunion, 36th
Salena Upshaw,  salena.upshaw522@gmail.com
Felicia, frb1227@netscape.net
Schürch Family Association of North America
All descendants of 40 or more spellings of the surname Schürch welcome.
Contact schurch.gathering@gmail.com; Elaine at 519-696-2526; www.schurchfamilyassociation.net
Seidemann Family Reunion
Descendants of Friedrich & Rosina Seidemann
Jul 16, 2017, Seideman Farm, Newburg WI
secretary@seidemannfamily.org; http://www.seidemannfamily.org
Sewell Family Reunion
Debbie Sewell, 3071 Co Road 39, Linden AL 36748
Sgaraglino, Bica and Bruno Family Reunion
Joseph J. Marchese, Sr, 6 Jessica Ct, Latham NY; 518 505-5078; JJMTRAINER@aol.com
Sheldon Family Association 76th Annual Meeting and Reunion
Jeanne A Jeffries, President, Box 933, Walpole NH, 03608
arnjeff@myfairpoint.net; 603-756-2933; http://www.sheldonfamily.org/
Shelton 20th Family Reunion
Jul 2017
Robert W Shelton, 5909 N Elkcam Blvd., Beverly Hills FL 34465
bobfreidashelton@centurylink.net
Shields Family Reunion
Stephanie Abrams; stephanieabrams49@gmail.com; Facebook: Shields Family Reunion
Smith Family Reunion
Mary Smith Ellis, maryellis0926@gmail.com
Smith-Williams Family Reunion
Contact Marcia Smith-Woodard,  317-809-6712; swreunion1110@gmail.com
Speight Case Family Reunion, Descendants of Nathan and Salina
Phyllis Everett, josephnphyl@gmail.com
Spence-Green Family Reunion, "Carnival Days"
Nola Green, 3720 S. Tempe Way, Aurora, Colorado 80010
720-252-9307, nolagreen1953@yahoo.com
Stanley Family Reunion
Jul 1, 2017, Damascus Rescue Squad Building, Damascus VA
Debbie Keith, 314 Mary St., Bristol, VA 24201; 276-791-4099; stanleyfamilygreunion@hotmail.com
Facebook: Stanley Family Reunion (Debbie Keith)
Stevens Family Reunion, 20th Bi-annual
Jul 20-23, 2017, Hampton, VA
Benjamin T. Muhammad, SFR Northern Committee, Pres.
201-207-4385
Stiles Family of America and Affiliated Families Reunion
Sheila Stiles, 6701 Larchmont Avenue, New Port Richey FL 34653
727-849-1397; president@stilesfamilyofamerica.org
www.stilesfamilyofamerica.org
Still Family Reunion, 147th
Reggie Still Sr., 137 E. Oak Ave, Lawnside NJ. 08045
reggiestill@cox.net; Cell: 757-268-8191; Home: 856-546-8191
www.stillfamily.net/still
Stokes-Combs Family Reunion (1st official reunion)
Dr. Gale LeVon, glevon60@gmail.com or Candace S. Morgan-Williams, stokescombs@gmail.com
https://www.facebook.com/groups/436490596527220/
Swindle Family Reunion
Amanda Hamilton, shorty92020@att.net
Tate Family Reunion
National Tate Family Association, Inc.
Andrea L. Tate, 908-858-2831; info@nationaltatefamilyassociation.com; nationaltatefamilyassociation.com
Tate Family Reunion
(Murray Tate /Pauline Cutrer/Tate and Harriet Washington /Tate descendants)
Date TBA, Baton Rouge LA.
Jessie Brumfield, 1821 Admiral Nelson Dr, Slidell LA 70461; 985-649-1192
Thayer Families Association
Marilyn Thayer, marilynthayer@verizon.net
Thigpen Family Reunion, Descendants of  Issac & Eliza Thigpen
Stephanie Lewis, 2808 Dawn Spring Dr, Dallas TX 75068
469-301-5143, thigpenfamilyreunion2016@gmail.com
http://www.thigpenreunion2016.myevent.com/, http://thigpen.tribalpages.com
Thomas Family Reunion
Contact Lazette Watterson, PO Box 873, Bogalusa LA 70429; lazettewatterson@yahoo.com
Thomas Underwood Clay Family Reunion, 40th (Ruby Anniversary)
Lisa Thomas, tuc2016chitown@yahoo.com, www.tucreunion.myevent.com
Tiffin Family Reunion
Floyd Tiffin, Jr. (Sonny), floydtiffin@suddenlink.net; 806-674-3326
Tubbs Family Reunion
Jul 7- 9, 2017, Melbourne FL
tubbsfamilyreunion2017@yahoo.com; www.familylobby.com/tubbsreunion
Turner*Billingsley*Hutchinson (TBH) Family Reunion
Jun 16-18, 2017, Austin, TX
C. Yevone Daniels-Thompson, tbh.familyreunion2017@yahoo.com
Turner Family Reunion
"Building a Strong Family"
Bobby Moore, Reunion Committee President, Katrina Shellman, Secretary, katree34@yahoo.com
Vernon Family Reunion, 69th Annual
Theme:  "Back to Our Roots"
Jul 28- 30, 2017 in Charleston, SC
VernonFamilySec@aol.com
https://www.facebook.com/descendants.vernon
Wade Selena Jones Reunion
Jul 6-9, 2017 , Northeast Florida; Callahan, Amelia Island and Jacksonville FL
Garry Jones, garry@stressfreeetravelinc.com; www.jonesfamilyreunion.info
Wainwright Family Reunion, Descendants of Levy Wainwright
Zandra Cannon, 1140 Kilgore Dr, St. Louis, MO 63137
cannonzandra@yahoo.com
Waltrip Family Reunion
Jerry Waltrip; waltripfamily@yahoo.com; on facebook at Waltrip Genealogy and Family Stories.
Washington Family Reunion
Jackie Green, jackiegreen04@hotmail.com
Wheatley Family Reunion
Robin Willis, 517 Vicki Drive, D'Iberville, MS 39540
901-574-8330, missrobin2006@yahoo.com
Wheaton-Dukes Family Reunion
Terry Bunch, blmbunch2008@yahoo.com
Whitaker Family Reunion
(Murray Tate /Pauline Cutrer/Tate and Harriet Washington /Tate descendants)
Date TBA, Baton Rouge LA.
Jessie Brumfield, 1821 Admiral Nelson Dr, Slidell LA 70461; 985-649-1192.
White Family Reunion
thewhitereunion@aol.com
White-Riddick Family ReunionC
Vanora Brothers, 1782 Harvey Point Rd, Hertford NC 27944; 252-426-5956; bvanora45@gmail.com
Whitehurst Family Reunion
Karen Stewart, 2016whitehurstfamilyreunion@comcast.net
www.2016whitehurstfamilyreunion.com
Wiley-Jefferson Family Reunion, 5th Annual
Keonsha Bernard, keonsha@hotmail.com; https://sites.google.com/site/cherishingourheritage/home
Willis Family Reunion
Georgia Willis Simpson (Planning committee member), gg3www@aol.com
Wilson Family Reunion
Contact Deborah Colston, debcolston4@msn.com
Wilson (Joe) 15th Biennial Reunion
Veronica McCoy, veronicamccoy@hotmail.com
Wilson Family Reunion
Pamela Williams; pbwill1@comcast.net
Woodworth Family Reunion
www.woodworthfamily.org/
Woodworth Family Reunion
Joanie Hamilton, 972-679-3600; Paul Woodworth, 217-964-2165; or Jan Woodworth Marks, jan1693@adams.net, 217-593-6000
Woodworth Family Reunion
Carl Webb; carlwebb3@gmail.com
Wooten Family Reunion
Melissa Hall, msh240@gmail.com, PO Box 88 Lemont Furnace PA 15456
Wynn Family Reunion
Patricia Gaynor-Lesley, shyne4p17@gmail.com
Yandeau-Guindon Family Reunion
http://www.guindon.myevent.com/
Young Family Reunion
Aug 2017, Fort Worth, TX
Karen Johnson, 5501 Purington Avenue , Fort Worth, TX 76112,
817-655-2736; Advisor1055@gmail.com; Shandimi@yahoo.com