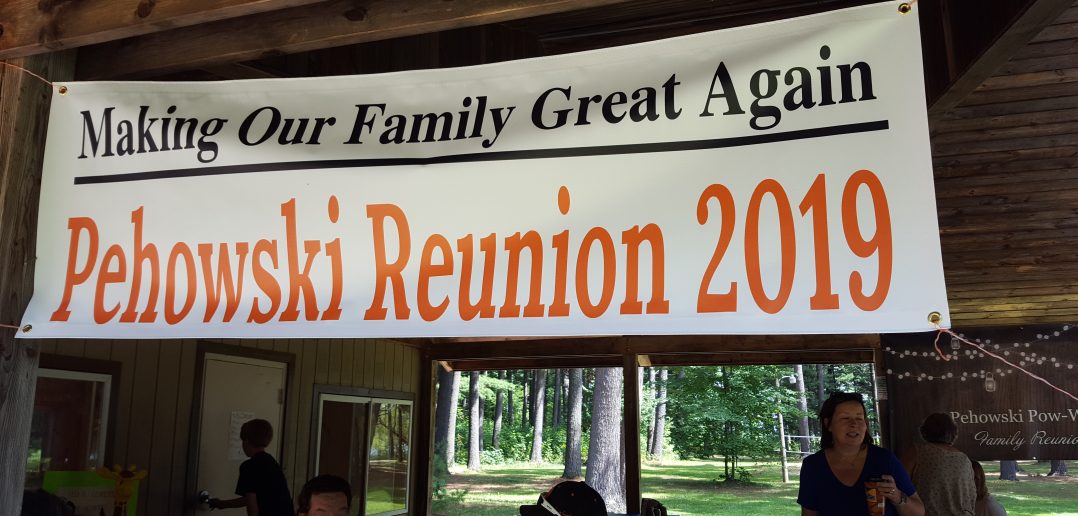 Pehowski Family Reunion
The Pehowski Family at Collins Park Meeting Place
In November 1936, Ted and Loretta Pehowski recited their vows at St. Adalbert's Church in Rosholt, Wisconsin. Who would have thought that 83 years later, their descendants would gather in a park not far away, to celebrate their lives and the fun-loving family they produced.
With great excitement recently, the family reunited for their first official family reunion since 2003. Sadly, since that time, the family matriarch, Loretta, had passed away.
Collins Park, three miles southwest of Rosholt, has been the park of choice for family get togethers since the 1940s. Several family members camped in the 21-acre park adjacent to Collins Lake. Camping was $24 a night with a season park manager living on site. Firewood and ice were available for purchase. Lodge rental was $100 a day for 13' x 35' plus 7 'x 11" kitchen. Some younger family members had fun swimming at the 300 foot beach and playing at the horseshoe pits and on playground equipment.
Ted and Loretta would be proud with the games several grandchildren put together, including a Guess Who the Baby? game, a specially constructed family name word search and a trivia game with questions such as Who has webbed toes?, Who sang a solo during midnight mass? and Who ran out of gas on the Pennsylvania Turnpike? The last question was Who is the oldest great great grandchild? The last one was kind of a trick question. Ted and Loretta's first great great grandchild Milo, was born only 3 days earlier! Many family members did not even know his name yet!
At 5:30 PM a catered chicken dinner was provided (each family member paid $5) and the rest of the food was potluck including desserts which featured Busia Loretta's favorite torte. After dinner as the sun began to drop in the west, many had to hit the road. Saying farewell was bittersweet. Thinking of the beautiful day and of those who had passed away. Everyone took a small pamphlet of Pehowski Humor and History to read on their ride home to cap the perfect day.
Shared by June Groshek Czarnezki, South Milwaukee, Wisconsin.