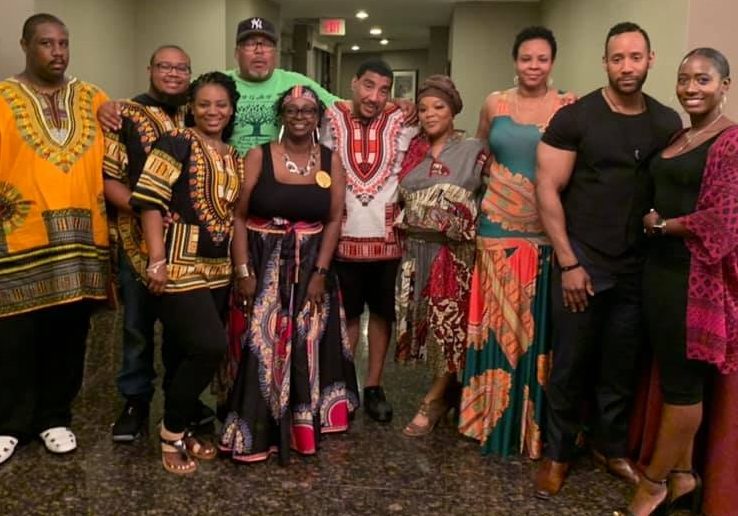 Fitzgerald, Glass, Henry, Terry Family Reunion
1947-2019…still going strong after 72 years
Don't get it twisted! Family is everything and knowing where one comes from can provide a better understanding of who we are. Originating from Pittsylvania County, Virginia, our first Fitzgerald, Glass, Henry, Terry (FGHT) Family Reunion was held April 27, 1947 in Chester, Pennsylvania. For 72 consecutive years, the FGHT family has organized annual family reunions to recognize, celebrate, teach, and to learn and better understand our heritage. Amazingly, to this day our torch continues to burn ever so brightly…..
Approximately 300 people were in attendance when the FGHT family gathered in Mount Laurel, New Jersey, for a jam-packed weekend of family, fun, and fellowship. With an agreed upon State pre-determined by FGHT General Body members, planning for our annual reunion began in October of the previous year. Our reunion is held yearly during the 4th weekend in July and relatives in the New Jersey area previously committed to serve as the 2019 Host City. They had the responsibility for securing a hotel venue and to plan and coordinate all family festivities and activities for the entire reunion weekend.
This year's reunion theme was "GENERATIONS CELEBRATION" and we rocked it! The reunion activities started Friday evening with a banging "Meet and Greet." With the constant arrival of relatives from near and far came lots of endless mixing, mingling, and socializing in the hotel lobby and the hotel hospitality room. There was a lot to catch up on. Relatives picked up prepaid registration packages and t-shirt orders, ate wings and pizza and participated in heritage conversation lessons. They had discussions about the family tree displayed on canvas, played cards/board games, and/or took a swim in the hotel pool.
During Saturday, the NJ Host Committee planned the ultimate Generations Celebration at Liberty Lake Picnic, a venue that offers something for all ages…60 scenic acres that included miniature golf, paddle boats, row boats, hiking trails, horseshoe pits, soccer, a swimming pool with slides and a trampoline, basketball courts, sand volleyball and plenty of FOOD, FOOD, and more FOOD! The family gathered briefly for our traditional family program in the park where family gifts were given for the first person to register, first family to arrive at the park, couple married the longest (57 years), person traveling the farthest (Colorado), newlyweds, birthday today, oldest member present (96 years), youngest member present (2 months), and the family with the most continual generations present (3 generations).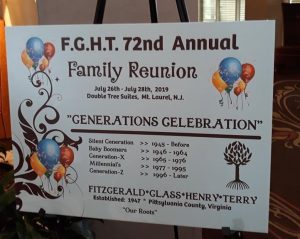 Totally exhausted after the day in the park, the family returned to the hotel to relax a short while and prepare for the Saturday Night Generations Celebration—Theme: Wakanda Unity Affair. All dressed in African garb, the young and older family members danced the night away in celebration of growth, unity, family, love, and peace. An interlude included door prizes, give-a-ways, and a short skit to recognize the significance of generational millennials, generation z. generation x, baby boomers, and the silent generation (World War II). Something new this year included the FGHT Business Manager and FGHT Vice President participating in an impromptu You-Tube podcast to share information regarding reunion management and organizational skill sets that have sustained our family reunions growth, participation, and longevity for 72 years.
On Sunday morning, we gathered for our traditional family program that included a speaker with a message of "Getting to Our Centennial", a memorial period, special recognition and acknowledgment of family achievers and graduates, a "State of the Reunion" address by the FGHT Business Manager, a fundraiser raffle drawing, and remarks by the FGHT President. The reunion weekend dismissed with our unity family circle and closing prayer.
The FGHT reunion is managed by the FGHT Executive Board (President, 1st Vice President, 2nd Vice President, Secretary, Assistant Secretary, Corresponding Secretary, Business Manager, Historian, and Chaplain). In October and March, the FGHT Executive Board conducts general body business sessions for the purpose of planning and finalizing events for an upcoming reunion. FGHT reunion sites span the states of Virginia, Maryland, Washington, DC, and New Jersey.
Reported by Cheryl Dixon, Accokeek, Maryland, FGHT Business Manager.