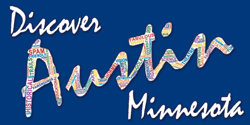 DISCOVER AUSTIN MINNESOTA
301 North Main Street Suite 101, Austin, MN 55912
507-437-4563
 visitor@AustinMN.com
 www.AustinMN.com
We take the "Minnesota Nice" reputation for customer service seriously and are eager to help you plan your next reunion. 
We offer FREE planning services and FREE welcome bags for all participants.
Experience unique attractions like
The SPAM® Museum
World Largest Berenstain Bears Collection
Rydjor Bike
Jay C Hormel Nature Center
Nativity House
and MORE!!!
Enjoy over 60 delightful dining options.
Relax and rejuvenate with nearly 400 hotel rooms. There are so many reasons for all seasons to Discover Austin, MN!
---

CRAGUN'S RESORT
11000 Craguns Dr., Brainerd MN 55401
(833) 604-0206
www.craguns.com/family-reunions
WORRY-FREE REUNIONS AT CRAGUN'S RESORT
Since 1940 Cragun's has taken pride in creating memorable reunions…here's why:
trained coordinator will help plan it all,
arrival "Welcome" and registration areas with planned activity agendas,
activities including golf outings, lake cruises, picnics, fishing contests, horse drawn trolley rides and more,
indoor facilities to ensure you a "weather-proof" reunion,
private gathering areas,
special celebration meals,
professional group photos,
and best of all, enjoy a safe, secure friendly environment.
Come to Cragun's for your reunion. Named "One of MN's ideal locations to hold a Reunion." by AAA. Call for FREE Reunion Planning Packet or visit: www.craguns.com/family-reunions.
---
MINNEAPOLIS SAINT PAUL
250 Marquette Ave. South, Ste. 1300
Minneapolis MN 55401
612-767-8106
caseyk@minneapolis.org
www.minneapolis.org

Meet Minneapolis
MINNEAPOLIS SAINT PAUL is the perfect destination for your next reunion.
Meet Minneapolis represents the entire MSP metro area. Use our FREE planning service to connect with hotels metro wide. We also provide your group with FREE welcome bags. Let us help you plan your next successful reunion in Minneapolis!