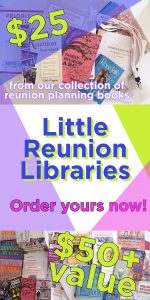 Over the years, we've collected many books about reunion planning and now we want to share them with you. We are making random assortments from the collection of five books, back issues of Reunions magazines and, while they last, some surprises.
We're calling them Little Reunion Libraries. Reunion planning ideas are not dated because those used years ago can be as fresh as they were then. They just need you to read and re-imagine them today for your reunion. If you are just starting to plan reunions or have planned for years and are looking for fresh inspiration, a Little Reunion Library might be just the spark you need.
Order yours today and we'll surprise you.
Each Little Reunion Library is $25 (minimum value $50), free shipping.