Wilson Family Reunion
Pamela Williams, Fredricksburg, Virginia, reported that they raffled off "theme baskets" for their 2011 reunion, Ten committee members provided baskets containing items in various themes—beach, fishing, family history, etc. One of the lessons learned from this event was that you should always charge enough for tickets. Other fundraising projects were a "Nine Fruits of the Spirit" program, biggest loser competition, and a Christmas holiday raffle, which made $1,463. One of the fundraisers for their 80th reunion in 2012 was a directory/ad book.
For the "Nine Fruits of the Spirit" program, each of nine ministers gave a message on one of the nine fruits of the Spirit taken from Galatians 5:22, 23 in the Bible: love, joy, peace, long suffering, gentleness, goodness, faith, meekness, and temperance. Each minister donated $50 toward this fundraiser and donations were also accepted from family members and friends who attended the service. It was a great fundraiser with a great message!
Benjamin and Mable Ford Family Reunion
Lenora Harper, Upper Marlboro, Maryland, writes that past fundraisers of the Benjamin and Mable Ford Family Reunion include a family quilt which raised $800, theme baskets (each branch gets a theme and must work as a team to create a basket) which made $450, a souvenir ad book, and a silent auction.
They have held outdoor movies, charging a fee and selling snacks. On off-years between reunions they have major fundraisers, such as a silent auction at their annual Easter egg hunt. A reunion attendance fee is charged, and they also sell a reunion DVD. They host silent auctions at most reunions – it keeps the fun in the meetings.
Future fundraisers they plan are a family cookbook, fashion/talent show, bus trip, The Benjamin & Mable Ford Legacy" DVD, and a storybook with family pictures.
They also celebrate an Easter Sunday egg hunt with gift bags and books for all the children, a silent auction for adults, a Summer Play Day for Children (giant moon bounce, outdoor games and food) and a silent auction.
Becker Family Reunion
Writing in the Yankton Daily Press (South Dakota), Linda Wuebben reported that, in order to raise money for hall rent and ice cream, all the Becker cousins were invited to donate items for an end-of-the-day raffle. Items came from all over the country and wine was a popular prize. A silent auction also was held, with many priceless mementos of Becker trivia. Several large frames contained old photos of Bernard and Martha Becker, other descendents and even an advertisement from a 1920s Wynot newspaper which invited the public to a dance in the Fordyce Hall where the Becker Family Orchestra (Bernard's sons and daughters) played.
Saffore-Scyffore Family Reunion
The Saffore-Scyffore Family Reunion committee had a "Service-Giving" Project. They asked every family member 18 years or older to bring one non-perishable food item for gift baskets. The gift baskets were donated to a less fortunate family (external to their family).
The 2012 family reunion celebration registration fee was $50 per adult (18-64 years of age). The registration fee covered the Friday "Opening Night Family Meet and Greet" expense, as well as the reunion picnic. There was no registration fee or t-shirt cost for family members 65 and older.
T-shirts were prepaid only, with no inventory for sale at the reunion. Prices were $12 each for youth through adult XL and $15 for XXL and larger.
Meal Sales are events they host where they sell a particular prepared dish. They have sold barbecue and chicken dinners, baked goods, snow cones, nachos and funnel cakes. Typically, when they have meal sales it's in connection with another event. Food sells!!
Christmas wreaths and other Christmas decor are great items to sell as well, handcrafted and wrapped per order. This year, a family member has started selling "diaper cakes" as a fundraiser—a great item for baby showers.
Saffore-Scyffore Family Reunion wrote:
How are the fundraising activities going in your area/chapter??

Whenever we travel a great distance, many variables must be considered. One major item is cost. It's costly to travel, lodge, eat and be entertained. Fundraising places everyone on an even playing field, regardless of your personal income level. Everyone in the family has fundraising experience; some of you have fundraised for your church, school and community/social groups. So let's place these skills and our networking circles to work and raise the money necessary to relieve the tension and financial strain, so we all can have a great time at the reunion.

Every family member can make an impact, even if you're the only family member in your geographical area. This is not just an adult effort; let's make sure our children are engaged and working as well. Many of us are employed, some are in school and others have specific commitments. I can certainly understand that everyone has a full agenda, but let's take the time to do what we need to do.
Listed below are just some of the fundraising ideas that have been researched, but please do what's comfortable for you and members of the family in your area.

Yard/garage/estate sale
Car wash
Bake sale
Meal sale
Candy sales
On-Line auctions
Patron list/monetary donations
Product donations to sell; candles, popcorn, Christmas wreaths, nuts/snacks, entertainment coupon books, cookie dough, holiday gift wrap and supplies
Community concert on the park

Please feel free to submit other fundraising ideas you may have.

If you are interested in being a fundraising captain and leading a fundraising team in your area, please contact me. We want as many fundraising teams as possible. If your local or regional area would prefer to operate as one team, that's fine as well; just appoint a leader and have that individual contact me.

We have a lot of work ahead of us, but we can have a lot fun in the process.

Let's get Excited, Pumped, Motivated and Charged about doing something that will benefit the entire family.

Be Blessed and look for more information to come.

-Niko Cook

Phone numbers and email
---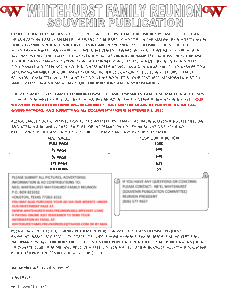 The Whitehurst Family Reunion produced a Souvenir Booklet and sold ads to family and friends. As an incentive, those who bought a full-page ad received a free Souvenir Booklet. They raised around $1000. They used Microsoft Publisher to build the pages and had them bound and printed at Office Max. Black and white pages kept costs down. You can ask your printer (Office Depot/Office Max) when they will have a sale on color ink pages, and have your booklets printed that day.